Iraqi MP Azhaar Sheikhly told Ashraf News: Al Araqiah MPs do not support the MEK
Iraqi MP Azhaar Sheikhly of Al Araqiah party said that MPs for the party do not support the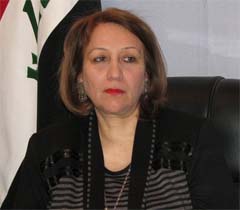 Mojahedin-e Khalq terrorist group. Our only concern is the defence of the rights of our people from the south to the north.
In an interview with Ashraf News, Sheikhli criticized the positions of some Iraqi politicians in defending the MEK terrorist organization saying, "We represent our people and our mission is not to defend the killing of our people and those who looted their money." Indicating that the blocs and parties affiliated to the coalition in Iraq do not agree with the views of some MPs, who are defending the organization
The MP Azhaar Sheikhly said that removing the MEK from the lists of [European] terrorist organizations does not mean the termination of Iraq's right to prosecute some of its members in international courts for their crimes.
The MP called on Iraqi leaders to pay attention to the issues of their people and their quest to solve the current crisis rather than the defence of the MEK.
Translated by Iran Interlink