"…the government would fall within 12 months if foreign powers remain neutral in the crisis" said Maryam Rajavi, in her interview with AFP.
This is not the first time and certainly not the last time either, that Maryam Rajavi as well as her fugitive husband Massoud Rajavi promise the overthrow of the Iranian regime in a particular period of time.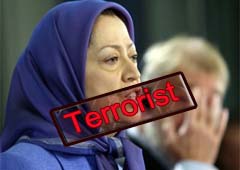 As a matter of fact it has always been a special policy in MKO history to determine a time for the fall of IRI. The use of the policy is that the leaders of the cult find a new topic for their manipulative sessions, they entertain the members injecting them the hope for the victory of their so-called struggle, especially in the current declining situation of the group in Iraq. Once the members are promised and given the hope of victory, they will stop their hesitations about leaving the group and will be persuaded to stay at camp Ashraf, in the hope of their alleged victory against Islamic Republic.
But the history recalls that thirty years ago (!) when Massoud Rajavi fled Iran to France he claimed, in his interviews, that he would get back to Iran in six months!
He repeated these words regularly during the past three decades since in various phases of MKO history the members were stuck in depression and disappointment due to failures of the cult, including failure in Eternal Light Operation (in which MKO attacked Iran), failure in their civil war and terror acts, their designation as a terrorist organization in the world and the fall of their main financial and military supporter, Saddam Hussein.
Now, Maryam Rajavi's claim for the overthrow of IRI in 12 months is the latest use of their old policy. It is worth to know that this time Mrs. Rajavi has made a condition in her prediction and that's:"if the foreign powers remain neutral in the crisis."
The condition is certainly used as a safety valve to put the blame on the other governments in case that her prediction will not come true. Then this will be used as an appropriate pretext to present the members after her next failure.
From the other side, the condition she makes is not only deceitful but unrealistic, experts say. Regarding the Islamic Revolution in 1978, when the Shah of Iran was enormously backed by the West especially the United States, the protesters could prevail Shah's tyranny and its many supporters who were not neutral on the case. Therefore the condition Mrs. Rajavi makes is not only meaningless but also funny.
By Mazda Parsi