A conference in Paris on Saturday asked international human rights organisations to be more involved in rescuing victims trapped in a violent cult in Iraq. Families and ex-members of the Iranian Mojahedin-e Khalq (MKO, MEK, Rajavi cult) linked up from Paris with the families who have camped outside Camp Ashraf in the Diyala province of Iraq for over four months. In Iraq, tens of journalists and local tribe leaders joined the families, while in Paris, Swiss author Anton Gessler, Dutch journalist Nelly Tomasini and MKO expert Massoud Khodabandeh analysed the group.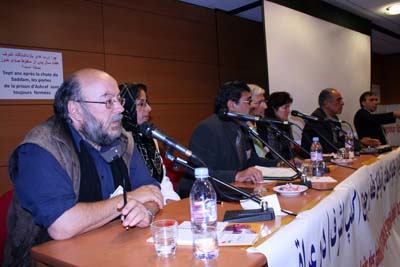 The families' only demand is unrestricted visits with relatives outside the camp. In a telephone link up with Iraq, Soraya Abdollahi, speaking for the families, thanked supporters, saying, "We have no choice but to stay and insist on our and our children's' minimum rights." Camp Ashraf (now Camp New Iraq) has housed Mojahedin-e Khalq members for thirty four years. Once allies of Saddam Hussein, the leaders disarmed in 2003 when American forces attacked their bases. But Mojahedin leaders, Massoud and Maryam Rajavi refused to surrender to the allied forces or Iraqi authorities and for seven years have held their followers hostage inside the camp. Members have no access to outside information and are subjected to a daily regime of indoctrination and hard labour.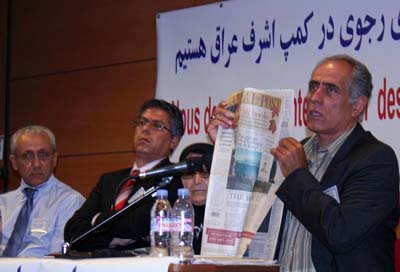 Iman Yeganeh, who escaped the camp in April 2010 after 22 years of captivity, described the situation for people inside the MKO as despairing. He said, "People are being told the Iraqis will kill them if they leave. Knowing about Saddam's security services, when I left I believed I would be killed. Even then I had to plan carefully how to finally get out." In Iraq, victims and their families are helped by Sahar Family Foundation; established in 2008 by ex-members and families with support from Iraq's authorities who also want to see a swift end to the self-imposed MKO siege. From Iraq, the website www.SaharNGO.com was announced, providing up-to-date information about the camp.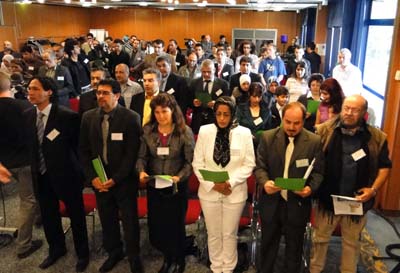 The conference, attended by people from Europe and North America, produced a statement stressing that more must be done to challenge the stalemate at the camp where 3400 people are imprisoned by cult leaders. The statement also forms the basis of a cooperative working document for the next year between the Camp Ashraf families and the conference delegates.