After the vigil for more than four months
Iranian families: Camp Ashraf leaders' refusal to let us see our children a violation of human rights law
After more than four months of the vigil outside the headquarters of Mojahedin called for Iranian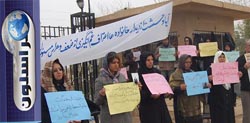 families from Iran to the camp said the Iraqi government to end the suffering by intervention and pressure on the organization's leaders to give them the opportunity to meet with their children, detainees inside the camp since the eighties in the last century, they said.
Ali Ramadan said that his brother has been held within the organization for a long time. He had been one of the prisoners from the Iran-Iraq war which lasted nearly eight years, adding that the former Iraqi regime had sold those prisoners to the MEK and its leadership, Massoud Rajavi, in order to bring them into the organization and help the Iraqi army in the war against Iran.
Ramadan told Reporters Network that the majority of the members of the MKO are mentally ill and have chronic diseases. He said they were suffering more than 200 medical conditions, while some were diagnosed with cancer.
Another person, Ahmed Khalaf Al-Hajri, from the province of Khuzestan in Iran said he lost touch with his brother 25 years ago while he was then a captive of the Iraqi forces in the era of the war between the two countries in Jalawla north-eastern Iraq. He said, "information reached us that he had been taken to Camp New Iraq, which they called at that time Camp Ashraf, and we did not hear anything more about him. But five years ago he called my mother. At the time, however, he did not speak with them long because he said he was surrounded by Guards and intelligence inside the camp. Al-Hajri added that most of the families within the camp did not enter with consent but have been brought force and in different ways, either by kidnapping or deception at the time of Saddam Hussein's regime.
Soraya Abdullah was also talking about the kidnapping of her son, who emigrated to Turkey illegally and was then sold to the MKO. She confirmed she has not seen her only son for five years, and says her only son left after the death of his father and she came here to expose the organization because of the actions exercised by them on the population living within the walls, amounting to torture. She refers to the strict prohibition on marriage by the organisation, a law enacted by Massoud Rajavi and Maryam Rajavi. She said she will remain until she meets with her son…
Sheikh Mohammed Jassim Abdul, one of Diyala province tribal leaders, said that Camp Ashraf has around 3400 people…
He said the elders and tribes of Diyala are demanding that the government and parliament work on removing this organization as soon as possible for several reasons, including its past cooperation with the former regime of Saddam Hussein against the Iraqi people.
He considered that the MEK leaders' rejection of families coming from Iran to see their children who were inside the camp is a violation and breach of human rights law and acts contrary to moral values.
Reporters network, Translated by Iran Interlink