Once again, the terrorist group of Rajavi means to hold an event in Paris, in the anniversary of the day they declared armed struggle against IR ,on June 18, 2011 so that the group might be able to fuel its propaganda machine for a few days.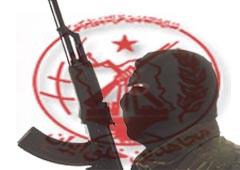 When MKO declared armed struggle on June 20th, 1981, the war between Iran and Iraq was in its bad days and Saddam Hussein (Rajavi's master)'s forces had occupied regions of Iranian territory. The declaration of armed struggle was in fact Rajavi's first step to flatter Saddam. By starting a civil war Rajavi was supposed to keep the country's armed forces busy in the streets in order to let Iraqis achieve their goals in the fronts.
Besides, on June20, 1981, Rajavi's treasonous decision ended with death and execution and arrest of thousands of Iranian youth who had been deceived by Rajavis' passionate words although Rajavi has his hand in hand of Iran's main enemy Saddam Hussein. They were both working hard to ruin Iran.
Now, by launching a new funny show in France abusing the bloods of those killed in Ashraf Iraq on April 8th, 2011, Maryam Rajavi and his husband want to hold an event supported by some retired MPs. They want to show off before the eyes of the world to say that they are still alive but the entire world has seen the death of such decayed group.
On the occasion of their first treason, they want to recruit participants from all European countries and refugee camps. These refugees do not have passport, they are mostly Afghans, Kurds, Turks and even Russians who are illegally taken to France by bus in order to play as mere numbers. These people are promised to go sightseeing in Paris and their stay in hotel and food are guaranteed by MKO so they are called as Iranians in exile.
As a former member of this terrorist group who had been deceived by the group's reactionary system, and now is living in Germany, I warn all European states and security bodies that today they nurture a group which is more dangerous than Al-Qaida. The terrorist cult of Rajavi abuses social and international liberty to achieve their horrible, ominous objectives. The group has even no pity for its own forces and make them die simply to reach its goals.
European states and security organizations should seriously watch their nations so that their youth don't get in the trap of these dangerous groups.
Amir Movassaqi, MKO former member