An Iraqi lawmaker has announced that the Iraqi parliament plans to establish a committee tasked with pursuing the expulsion of the members of the terrorist Mojahedin Khalq Organization based in Camp Ashraf.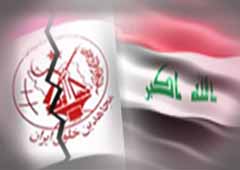 Hassan Al-Sunaid, the Security and Defense Committee chairman, made the announcement in a recent interview with Kurdistan Regional Government's website.
The Security and Defense Committee has reached an agreement with Iraqi Prime Minister Nouri al-Maleki to form the special committee, Al-Sunaid stated.
On April 8, following orders of the government and in line with the new Iraqi Constitution, the Iraqi army tried to dismantle the terrorist group's residential area, called Camp Ashraf, but the MKO members residing in the camp clashed with the Iraqi soldiers.
The Iraqi government has also set a deadline for Camp Ashraf residents to leave the country.
On April 13, the Iranian ambassador to Baghdad announced that Camp Ashraf residents can return to Iran under certain conditions.
"These persons can travel to Iran or any other country if they are willing to do so and if no criminal case has been filed against them in Iran or Iraq. They will also be given passports," Ambassador Hassan Danaiifar stated.
Backed by the U.S. and some European countries, the MKO started its activities as a terrorist group based in Iraq in the early 1980s. In addition to the assassination of hundreds of Iranian officials and citizens, the group cooperated with Saddam Hussein's Baathist regime in its repression of the Iraqi people.