Iraq to help Iranians who fled from exiles' camp
An Iraqi official claimed Thursday that 58 people have fled from an Iranian exiles' camp northeast of Baghdad and promised the government would help them immigrate into another country.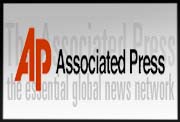 The claim by Defense Ministry spokesman Gen. Mohammed al-Askari is the latest in the saga of several thousand Iranian exiles living in Camp Ashraf, where an April 8 raid by the Iraqi army killed dozens or residents.
The camp is run by the People's Mujahedeen Organization of Iran, a resistance group to Tehran's regime that has been a harsh critic of Iraqi Prime Minister Nouri al-Maliki. The group is considered a terrorist organization by the United States.
The Ashraf residents were allowed to settle in Iraq by former dictator Saddam Hussein to spite his Iranian foes. But they have since been a political thorn for al-Maliki, who is trying to ease relations with Tehran, the only other Shiite-dominated government in the Middle East. The residents have lived in Ashraf for more than 30 years.
But after the April raid, the Iraqi government insisted it would close Ashraf within a year. The camp's residents are refusing to leave, raising concerns of another violent showdown.
Al-Askari, flanked by four Iranians who he said had escaped from Camp Ashraf, told reporters at a press conference in Baghdad that they had been held hostage inside the camp. He said Iraq would give them necessary documents to leave the country.
"We have information from inside the camp that many residents do not want to stay, but remain there under coercion and threats from leaders of the group," said al-Askari.
The desert camp, located 60 miles (95 kilometers) northeast of Baghdad, was overrun by Iraqi soldiers in an April 8 assault that left up to 35 residents dead. Iraq's government denies it killed the residents, but U.N. observers during a tour of the camp after the raid witnessed bodies of 28 shooting victims and three who had been run over.
Since the raid, reporters have not been allowed inside the camp, and a U.S. congressman also was blocked from entering by Iraqi authorities in June.
In response to al-Askari's claims, Ashraf leaders issued a statement deriding the four escapees as agents working for Tehran's ministry of intelligence. They have said camp residents are there by their own volition.
The statement said the four were "brought to a press show to slander Ashraf and pin the blame" for the April attack on the camp.
BUSHRA JUHI, Associated Press