The liberal firebrand succumbs to Washington's money culture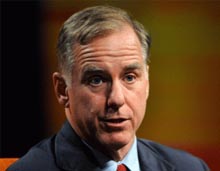 Howard Dean has long cultivated an image as the plainspoken doctor who speaks for the left wing of the Democratic Party, a role he still plays as a pugnacious pundit on TV. But since his term as chairman of the Democratic National Committee ended in January 2009, Dr. Dean has taken on a less-noticed role: paid advocate for interest groups that would find few fans among the progressive voters once energized by Dean's 2004 presidential bid.
Dean may not be the worst of the "buckrakers," those prototypical capital characters who exploit their name and connections without regard for principle. But his recent political forays seem to have diverged from his trailblazing left-liberal past.
As senior strategic advisor at McKenna Long & Aldridge, a heavyweight Washington lobbying firm, Dean played a prominent role representing the biotech industry during the healthcare bill debate, staking out a position on biopharmaceutical drugs that was decried by consumer groups.
"Gov. Dean was very helpful to us," biotech CEO Jim Greenwood told a trade publication "As a physician clearly focused on healthcare, a Democrat leader and clearly to left of center, his efforts were impactful." Greenwood is the head of the Biotechnology Industry Organization (BIO), a trade group that lobbies for the industry in Washington.
Dean is also currently one of the most prominent paid voices in a public-relations campaign on behalf of the Mujahedin-e Khalq (MEK), an obscure and controversial Iranian militant group that is aggressively lobbying the Obama administration to remove it from the official list of terrorist organizations.
Dean arrived in the comfortable K Street offices of McKenna Long & Aldridge shortly after his term as DNC chair ended in January 2009. He had been passed over by President Obama for the secretary of health and human services Cabinet post, and he needed a paying job.
In announcing his appointment, the firm said Dean would "provide guidance to clients, particularly in the areas of healthcare and alternative energy resources."
Dean has been careful not to register as a lobbyist, a designation that would prompt legal disclosure requirements. Both McKenna and the governor's spokeswoman declined to reveal which clients he has worked for.
Dean took on a very public role during the 2009 healthcare reform battle, specifically going to bat for the biotech industry — whose trade association is a client of McKenna.
At stake was how the government would regulate a growing class of drugs called biologics or biopharmaceuticals and their generic competitors. The industry argued for a longer period — at least 12 years — in which expensive brand-name biologics would face no competition from less costly generics. Consumer groups argued that, to keep costs down, the period of exclusivity should be just five years.
Dean jumped into the fight on the side of the industry, writing an Op-Ed in the Hill in 2009 arguing that a "commonsense and fair approach" would be to bar generics for "at least 12 years."
"If we discourage investment, we jeopardize the development of the next generation of breakthrough medicines and cures," he wrote, echoing a key industry talking point.
Liberal admirers were disappointed.
"It was devastating to have him involved because of his reputation," says James Love, director of Knowledge Ecology International, a public interest group that fought for a shorter period of exclusivity. "He's considered to be independent of industry and on the left, so it was really shocking to us when we first saw this. But there it was."
Greenwood, the trade group CEO, said at the time that Dean's work had involved talking to members of Congress about the issue. Dean never registered as a lobbyist, a legal category that involves spending at least 20 percent of one's time for a client lobbying lawmakers or government officials.
One common dodge on K Street is for former elected officials to work for lobbying firms without actually registering as lobbyists. At McKenna, for example, former Sen. Zell Miller, the conservative Democrat from Georgia, and former Colorado Rep. David Skaggs hold the same title as Dean: "senior strategic advisor and independent consultant."
Dean is not exclusive in his services. He currently serves on the board of advisors at Vatera Health Partners, a New York-based venture capital fund whose mission is "to support and grow emerging biopharmaceutical companies."
It's not clear from the public record how long he has served in the position. But his presence on the Vatera board indicates that he has a personal financial stake in the biopharmaceutical industry.
At the time of the biologics fight on Capitol Hill — which the industry won — Dean told Time that "I wouldn't do this if I didn't believe it."
Dean has invoked the same argument when it comes to his work in support of the MEK, the Iranian militant group. Dean and other luminaries from across the political spectrum have been paid vast sums of money by the group — as much as $20,000 for a 10-minute speech — to appear at events pushing the Obama administration to remove the MEK from the official list of terrorist organizations.
Dean himself has acknowledged being paid but has not disclosed specific sums.
Critics of the MEK, including the State Department, say the group displays cult-like qualities; it has been led by the same husband-and-wife couple, Masoud and Maryam Rajavi, for decades. They also point to the fact that it killed Americans in Iran in the 1970s and the lack of support for the group among the people of Iran. Among the most enthusiastic supporters of delisting MEK have been neoconservative strategists who believe the group can help destabilize the Iranian regime.
Dean, for his part, has been distinguished by his particularly aggressive advocacy for the MEK. Not only has he argued for delisting MEK in print and in speaking appearances, he has also said that Maryam Rajavi should be recognized as the president of Iran. The Christian Science Monitor reported on a recent trip by Dean to Berlin:
"Madame Rajavi does not sound like a terrorist to me; she sounds like a president," Mr. Dean said, gesturing toward the MEK leader from the dais. "And her organization should not be listed as a terrorist organization. We should be recognizing her as the president of Iran."
While Dean has passionately argued he is on the right side of the MEK issue, he acknowledged to the Washington Times that he got involved through his agent.
"I got asked by my agent to go over to Paris to speak to a group I knew nothing about. I spent a lot of time on the Internet learning about them, and then I met them," he told the paper.
Dean spokeswoman Karen Finney said that, besides paid advocacy work, the former governor spends his time on a range of other activities, including appearing as a paid contributor to CNBC; traveling as a board member for the National Democratic Institute, which promotes democracy around the world; giving paid speeches; teaching a class at Hofstra University; and serving on the board of Extendicare, a Canadian long-term care company. Finney said he also continues to do some work for Democracy for America, a political action committee Dean founded that is run by his brother, Jim.
Whom else does Dean work for as a paid advocate?
In January, he waded into another high-stakes healthcare fight, this one being waged in New York state between foreign medical schools and their American competitors. The issue was whether foreign-trained doctors would have access to hospitals in New York for their residencies. Dean wrote an Op-Ed in the Albany Times-Union, "N.Y. needs its foreign-trained doctors," that repeated talking points of foreign medical schools, which, Dean's bio blurb noted, are clients of McKenna Long & Aldridge.
While the firm won't say whom Dean has worked for, his bio page on McKenna's website offers some clues.
"Respected for his fiscally moderate policies as Governor, he understands first-hand the severe budget constraints that are challenging state and municipal governments," it reads. "With an extensive set of contacts nationally, Governor Dean is uniquely positioned to develop partnerships between industry stakeholders and local governments."
Dean is indeed uniquely positioned: Between his former followers and his current clients, between his idealist liberal past and the cynical culture of K Street, between independence and cooptation.
By Justin Elliott – The Salon.com