Iranian Ambassador to Iraq Hassan Danaifar says nearly 750 members of the terrorist Mujahedin-e Khalq Organization (MKO) have expressed readiness to return to Iran.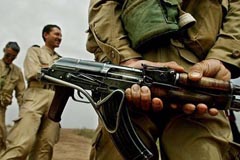 A file photo shows a member of the Mujahedin-e Khalq (MKO)
holding his weapon as he stands guard near the terrorist group's
base in Camp Ashraf in northern Iraq.
Danaifar had earlier announced that Iran had pardoned all the residents of the Camp Ashraf except for less than 100 individuals who have criminal records.
The Iranian ambassador said on Sunday that Iran would not grant amnesty to the ringleaders of the terrorist group, adding that "those whose hands are not stained with the blood of Iranian citizens will be pardoned."
Danaifar noted that during UN envoy's visit to Camp Ashraf, the majority of the group expressed willingness to return to Iran in Iraq; however, the MKO leaders do not allow them to leave the camp and they have "somehow taken those members as hostages."
The MKO, which has carried out numerous acts of terror and violence against Iranian civilians and government officials, fled to Iraq in 1986, where it enjoyed the support of Iraq's executed dictator Saddam Hussein and set up the camp in Diyala Province, near the Iranian border.
The terrorist group is also known to have collaborated with Saddam in the bloody repression of the 1991 Shia Muslims in southern Iraq and the massacre of Iraqi Kurds in the country's north.
Iran has repeatedly called on the Iraqi government to expel the group, but the US has blocked the expulsion by mounting pressure on the Iraqi government.