Martin Kobler, Special representative of the UN Secretary General for Iraq, on Thursday urged the EU Member States to receive the Camp Ashraf's residents in Iraq as refugees. "My message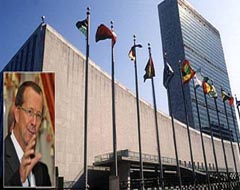 goes to the governments of EU Member States because the final purpose of the whole exercise to move people from one camp to the other for them to undergo the refugees' status determination is to bring them abroad, " Kobler told a press conference in Brussels this evening.
"And so far the answer of (EU) Member States to receive the Camp Ashraf's residents as refugees, once recognised in their host country, was not that enthusiastic. And my appeal goes also to Member States, then at the end once they are refugees, to take them into their countries and to give them a live and freedom and liberty in their countries," he added. Camp Ashraf is a camp of more than 3000 exiled members of the Iranian People's Mujahedin dissident group , which is located some 60 kilometres north of Baghdad . Camp Ashraf was until 2009 under the control of the US military, but has since been controlled by the Iraqi Government. On 25 December, the Iraqi Government signed a Memorandum of Understanding organising the transfer of the Iranian dissidents to a transit location near Baghdad Airport, Camp Liberty.
It would allow the Iranians to undergo the refugees' status determination with the assistance of UNHCR. On his part, Hugues Mingarelli, Managing Director for the Middle East and Southern Neighbourhood in the EU, stated that the EU High Representative Catherine Ashton will continue to raise the issue with EU Member States in order to look to possibilities to relocate some of the residents of Camp Ashraf.
Ashton has called on the Iraqi government to refrain from all violence and to fully respect the human rights of the camp's residents. Ambassador Dan Fried, US Special Advisor for Camp Ashraf told the press conference that people from Camp Ashraf need to be considered individually. "And to make determinations about any specific individual we need to know more about them and such information can be obtained only after they moved to Camp Liberty and participate in the UNHCR status determination process, " he added.