A leading member of the Kurdistan Coalition in the Iraqi Parliament on Monday denounced allegations by some Iraqi authorities of the Kurdish officials having contact with the Mujahedin-e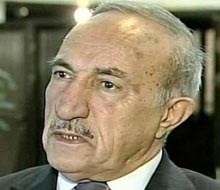 Khalq, calling Kurds as "the major victim of MKO's presence in Iraq."
Following the latest reports regarding the President of Kurdistan Region's ties with the terrorist Mujahedin-e Khalq Organization, Dr. Mahmoud Othman, leading member of the Kurdistan Coalition, told Habilian on Monday that the "Kurdish people have suffered a lot from the Mujahedin-e Khalq terrorist group," and the Kurdistan Coalition has nothing to do with these terrorists.
Othman's comments come as Saad al-Matlabi, political advisor to the Iraqi Prime Minister Nouri al-Maliki, in an interview with Habilian claimed that Barzani, President of the Iraqi Kurdistan Region, was likely to have relationship with the MKO terrorists.
Othman reminded that the Kurds are the major victims of MKO's presence in Iraq, adding, "Some media have recently talked about the relationship between the Kurds and Mujahedin-e Khalq, (but) the claim is not true."
He then raised the question that how it is possible to have contact with a group that is designated as a terrorist group?
"We call on all parties to respect the rights of Kurdish people, and do not make such accusations against Kurds," added Dr. Mahmoud Othman.
He went on to remind that at the time of Saddam's dictatorship, Kurds were the victims of Mujahedin-e Khalq terrorist grouplet.
"The New Iraq does not allow by any means the terrorist groups on its soil," he added.
Another senior member of the Kurdistan Coalition in the Iraq's parliament made similar comments in a Sunday interview with Habilian Foundation (families of Iranian terror victims).
"Masoud Barzani, president of the Kurdistan Region, has no relationship with the terrorist Mujahedin-e Khalq Organization as the group has targeted Iraqi people, and besides the Kurdistan Coalition insists on the good relations with neighboring Iran," Mahma Khalil said.