Rajavi's interpreter, who has recently escaped Camp liberty (Temporary Transit Location), speaks of new dimensions of the Mujahedin Khalq's activities including bribing the employees of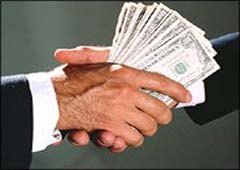 the UN High Commission of Refugees.
Mr. Qorban Ali Hosseini Nejad was a member of the cult for thirty years. He was Massoud Rajavi's interpreter because of his proficiency in Arabic. He also used to translate the group's letters so he had access to a lot of secret information, reported Habilian Association.
Hossein Nejad denounces the MKO by revealing some facts: "the MKO leaders give bribe to employees of the UNHCR in order that they ignore the group members' requests for leaving the cult and returning to Iran! I believe that 90 percent of the MKO members both in Ashraf and Liberty want to leave the group but they do not find the opportunity to run away. Thus, if they find a secure opportunity like interviews with UN representatives, they will declare their willingness to defect the cult and to return to Iran."
"Massoud Rajavi in an internal message told the members that everyone who wanted to leave should declare so that we would pay for all the expenses to hand him to Iraqi forces!" he added.
"Rajavi know it well that high ranking old members of the group, especially hundred of women who are in Elite Council, never dare to say that they want to go because according to the group proclaimed regulations, they are condemned to take a cyanide capsule. Once they are killed, the group will pretend that they died of disease or incidents."
By using such tricks, Rajavi in fact wants to tell the international bodies that staying in the cult is not mandatory and members are staying there voluntarily! Besides, he wants to feel free to eliminate low-ranking members who have been in the cult at most for 10 to 12 years (Often those who were not in the cult at Saddam's era).
The MKO defector continued pointing to the MKO's role in riots in Syria;"A certain number of the MKO members in camp Ashraf and even in Liberty have access to computers, the Internet and telephone. They have been ordered to help riots in Syria by using the media."
The access to the Internet is totally controlled by loyal members to Rajavi in order to prevent individuals from using the net to contact their families or get news of the outside world.
Translated by Nejat Society