A group of Iranian exiles that has for years clashed with the Iraqi government said they were attacked Monday by military forces as they prepared to take the latest necessary step toward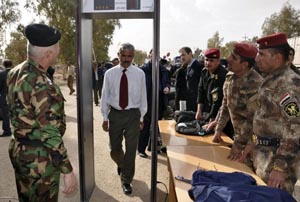 being resettled outside the country.
A statement by the People's Mujahedeen Organization of Iran said its members were beaten with sticks, metal bars, stones and other objects, leaving 20 people wounded.
Gorges Bakoos, an adviser to Iraq's premier, described a shoving match Monday afternoon between soldiers and the Camp Ashraf residents. He strongly denied there was violence or injuries.
The exiles, also known by their Farsi name Mujahedeen-e-Khalq, have lived for decades at their sprawling settlement in northeast Iraq, known as Camp Ashraf. The group seeks the overthrow of Iran's clerical leaders, and was given sanctuary in Iraq by former dictator Saddam Hussein as a snub to Tehran.
But Iraq's current Shiite-led government, which has been building ties with Iran, says the exiles are a terrorist group that is living in Iraq illegally. The U.S. considers the PMOI as a terrorist organization, but is weighing delisting them in a decision that a federal court has ordered must be made in coming weeks.
Tensions between the PMOI and the Iraqi government escalated into deadly military raids on Camp Ashraf in 2009 and 2011, and the U.N. is trying to peacefully resettle the PMOI in third-party nations. As a condition for its help, the U.N. wants Ashraf residents to move to a former U.S. military base outside Baghdad while their asylum applications are processed, and has urged the PMOI to step up their pace in leaving their camp.
Mujahedeen leaders this month said 400 Ashraf residents would move to the former U.S. base, known as Camp Liberty, on Aug. 23. That deadline was not met, but Monday's incident broke out as Ashraf residents were being searched by security forces before moving to Liberty.
"Iraqi armed forces violently attacked the defenseless residents," Mujahedeen officials said in a statement. It said 20 residents were wounded in their arms, heads and faces, including two whose arms were fractured. The group provided pictures of two bleeding men, but the images could not be independently verified as connected to the incident.
Bakoos, who is overseeing the Ashraf resettlement for Prime Minister Nouri al-Maliki, said the residents started pushing and shoving Iraqi forces as a way to slow the move.
"We needed to search some of them by hand, but they refused," Bakoos said. "This act was deliberate because their goal is to delay the movement."
Bakoos said the 400 Ashraf residents would move to Liberty on Tuesday, and would followed by the remaining 800 in September.