Police sources said today that the anti-Iranian Ashraf Camp shall be fully evacuated by the end of this month.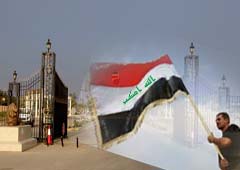 The source told Aswat al-Iraq that 2400 members of the camp were moved to Freedom Camp near Baghdad airport in six groups.
There are 800 members remaining who will be moved in two batches; the first will comprise of 600 members and the second 200.
The Camp shall be fully closed by the end of this month, the sources confirmed.
It was intended for the camp to be the headquarters of Dijla Operations Command, which includes Diala and Kirkuk military operations, due to the site's location.
Iraq agreed with the United Nations to evacuate Ashraf Camp, Diala, 57 km northeast of the capital, Baghdad, and move its anti-Iranian members to an alternate camp near Baghdad before moving to another haven.
Ashraf Camp is the military camp of anti-Iranian Mujahidi Khalq (The People), which was regarded by the United States, Iraq and Iran as a terrorist organization, unlike the European Union which lifted it is name from terrorist organizations in 2009.
The members of the organization lack any legal position in Iraq, but the Iraqi government pledged to close it by the end of 2011.