Maliki says Iraq no place for PKK, Iranian rebels
BAGHDAD (Reuters) – Iraqi Prime Minister Nuri al-Maliki has promised to help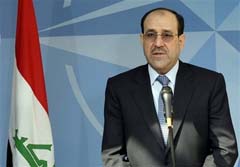 Turkey fight Kurdish separatists who use northern Iraq as a base from which to launch attacks.
Maliki gave the promise in a recorded interview on Iraqiya state TV on Wednesday after a visit to Iraq by Turkish President Abdullah Gul, who asked Iraq on Tuesday to help quell more than two decades of rebellion by the Kurdistan Worker's Party (PKK).
Turkey has accused Iraq in the past of not doing enough to crack down on the outlawed PKK, considered terrorists by Washington and the European Union.
"The PKK is a terrorist organization and it has caused a crisis (between Iraq and) … Turkey," Maliki said. "This matter must be ended. Our will is decisive … (Here) there is no place for terrorist organizations."
On Monday Iraqi President Jalal Talabani, a Kurd, told the PKK to disarm or leave Iraq, in some of the toughest comments to date by any Iraqi leader against the rebels, whose use of Iraq as a base has strained ties between Baghdad and Ankara.
Maliki's comments were a further sign of a thaw in relations between the two major trading partners, starting with a trip to Iraq by Turkish Prime Minister Tayyip Erdogan last year.
In the same interview Maliki also warned the Iranian opposition group, the People's Mujahideen of Iran (PMOI), that they must leave Iraq, reiterating a pledge by National Security Adviser Mowaffaq al-Rubaie to close down Camp Ashraf on the Iranian border, where the PMOI are currently based.
"We have informed this terrorist organization that Iraq can be no place for you… Search for another place," he said.
The camp's 3,500 residents have been in limbo since Iraq took it over from U.S. forces this year. Iraq's Shi'ite Muslim leaders are friendly with Tehran, which wants the camp closed and PMOI members on a wanted list handed over for trial. Human rights groups say that would violate international law.
Iraq has appealed to other foreign countries to accept residents when it closes Camp Ashraf at the end of this month.
Reporting by Tim Cocks