100 more MEK moved out of Camp Ashraf
On Thursday morning, 11th October, just after midnight, one hundred MEK were taken from Camp Ashraf and transferred to Camp Liberty. The group comprised 92 men and 8 women.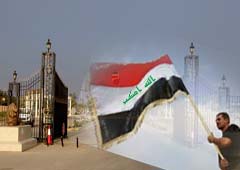 On the afternoon of the previous day MEK combatants had launched an unprovoked attack on the families who are waiting outside the camp to find news of their loved ones. The MEK used catapults and slingshots to launch rocks and stones at the defenseless families, injuring some. Iraqi security forces intervened to protect them and pushed the MEK back inside the camp.
After the successful transfer of 100 more MEK to Camp Liberty, the Chief of Police of Diyala Province told reporters that tens of MEK still remain in Camp Ashraf and will be transferred as soon as is possible. He said that the people of Diyala Province want the MEK problem to be cleared up and the camp closed, emphasising that the MEK is a terrorist group and should be removed from the country.
Over the past few days many other Iraqi officials have spoken on this issue to emphasise that the Americans should take their favoured group out of the country. They stressed that Iraq cannot accept America's terrorists to remain as guests indefinitely and be in a position to help the insurgency and interfere in the internal affairs of the country.