Four former members of the Mujahedin Khalq Organization left the group last Wednesday and Thursday, Nov. 28 and 29, Fars News Agency reported.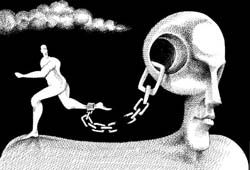 Three of the recently defected members are from one family: Arzin Dialeh, the father; Mohsen and Peiman Dialeh the sons.
Nasrollah Tokhm Afshan was the fourth person who fled the Cult of Rajavi last week. He was a high-ranking official of the group, according to FNA report. Tokhm Afshan succeeded to pass numerous security obstacles of the cult after several years of dissent. As a dissident to the group's policies, he suffered a lot of psychological and mental pressure in the cult where he was deprived from his most basic human rights.
The Dialehs who joined the MKO in the 2000's decided to leave the cult, after two years of residence in Camp Ashraf then they found out that they had been deceived by the MKO. But the leaders of the group replied their demand for departure by imposing more restrictions and suppressions. Ultimately after moving to Temporary Transit Location (TTL/Camp Liberty) the authorities of the group couldn't stand their insistence and agreed with their defection. The three, then surrendered themselves to the UNHCR officials.
As pressure, suppression, violation of human rights and 24-hour mind control schedule are severely committed by the Cult of Rajavi – in order to prevent dissent and defection- members get more eager to escape the terrorist Cult of MKO.