MKO expresses concern over attendance of Mr. Kobler in marking Iraq's HR's Day
An assessment of the human rights situations in the world's countries tells that the situation in general is worrying. There are, however, essential differences between the results according to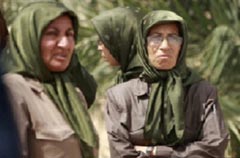 findings and reports of local and international NGOs which vary from country to country according to their political, social and historical characteristics and particularly if a country experiences post-war crises. Even in such a country, Iraq for example, many people today realize that their government has obligations in the sphere of human rights and the government has also started to meet these obligations; the existence of the Ministry of Human Rights expresses how important human rights are for this country.
But the important thing and the responsibility on the international organizations active to monitor and promote human rights are to push states to respect the obligations to which they have signed up. These international bodies play an active role by taking measures aimed at encouraging states to respect these obligations and they can also play a more active role by following the recommendations issued by these bodies. It is clear that an exceptional improvement of the human rights situation means a positive step forward that needs an international encouragement to be followed by many other, a responsibility that Mr. Martin Kobler, Special Representative of the Secretary-General (SRSG) for Iraq, carried out by attending the official Human Rights Day celebrations hosted by Prime Minister Nouri Al-Maliki at the Iraqi Institute of Human Rights in Baghdad.
Appreciated as an overall promising and urging move, the attendance is being criticized by the leaders of the forcefully relocated MKO that the Iraqi government is decisive to expel from its soil for its very same role in violation of human rights and many Iraqi rules as well as interfering in domestic affairs. In a statement issued by the group's office in France, Mr. Kobler's attendance was condemned as "an abhorrent flattering" which was claimed to be in complete contradiction to his earlier reports of human rights violations in Iraq. Mr. Kobler is quoted to have flattered in the presence of Nouri Al-Maliki by saying:
"The Prime Minister's remarks are in line with the UN's agenda on human rights. This is a correct and realistic obligation to human rights. ….. The existence of the Ministry of Human Rights expresses how important human rights are for this country. ….His Excellency the Prime Minister and the Human Rights Minister, I am very happy to participate in this gathering. I am very happy that the Prime Minister is in this event and this is a very important indication that His Excellency the Prime Minister's honorable presence means he pays notice to human rights in Iraq. I express my gratitude to the Minister of Human Rights for his enormous cooperation with UNAMI and me personally and human rights in Geneva. What we are doing in Iraq is in line with the government's actions and parallel to strengthening human rights in Iraq."
Even if we suppose that Mr. Kobler has flattered the Prime Minister Al-Maliki, Iraq is a country that needs strong and considerable encouragement to pass over the hard days and to be promoted with confidence to make efforts for bringing sorts of improvement to the human rights situation in the country. Of course, MKO's displeasure is mostly because the Iraqi government turns a blind eye to ceaseless and illogical demands of the group that is imposed on the government, and which is only one of many unwelcome legacies of the ousted Saddam to tackle with. At the present, MKO has the least required cooperation with both the Iraqi government and the UN bodies to bring an end to the agonies and plights of some 3,200 enslaved members of the group waiting under an unrelenting, cultic, psychological pressure in a transitory camp near Baghdad for their destiny to be decided. Having a long record of violating its insiders' rights, the group itself is the bottleneck that hampers the processing process and continues to break principles in dealing with insider's rights.