Has the final resettlement to third countries started?
News received from inside Camp Liberty, the base of Mojahedin-e Khalq Organization in Iraq where 3400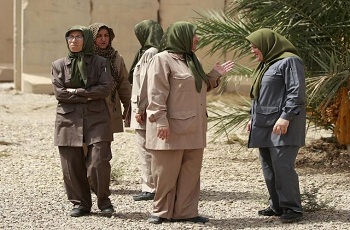 members are located, indicates that unrest and discontentment is growing fast among the residents and that some, against the direct instruction of the cult, openly express their desire to go to a third country. However many people are afraid to approach the international observers because the cult has ideologically banned all contact with outsiders, which it has labeled as 'crossing the red line'.
The departure of 14 individuals from Camp Liberty to Albania shows that apparently the process of moving out of Iraq has started. Nevertheless it is not clear how long such a slow procedure will take to reach its final stage.
Rajavi previously announced to his followers that they would not be moved from Iraq. Rajavi's ideal is to remain in Iraq under the same conditions he used to enjoy in the time of Saddam Hussein. Or, if he is forced to take his followers out of Iraq, he prefers to move them all together to one location similar to Ashraf Garrison.
Perhaps Rajavi has come to the conclusion that his desires are no longer tolerated and therefore one can presume that the process of moving everyone individually to third countries is taking place. Thus it could be said that what Rajavi had feared most is now happening.
Massoud Rajavi gave some audio conferences via the internet for the inhabitants of the camp a couple of months ago. In these sessions he tried to give hope to his followers and also to terrify them. He gave some political analyses relating to the situation in Syria and then concluded that the Iranian regime would soon be toppled and they would all go to a free Iran.
In these hearings he frankly stated that anyone leaving the organization would suffer both in this world as well as in eternity. He of course did not mention the fact that those who left his cult are now in a much better situation and those still in the camp who are suffering the most. It is worth saying that the average age of the residents is 50 years old, of which most are in poor health and who have many mental and physical problems. These people did not gain much neither in their lives nor with their struggle. They have wasted their lives for the narcissistic desires of Rajavi and have been forced to commit all sorts of betrayal and crimes against their country and their people.
The other point Rajavi mentioned was: "the atmosphere of Camp Liberty is poisonous and deadly, and it must soon be subjected to detoxification". Rajavi then explained that he refers to the presence of the UN monitors and the ICRC officials as well as the Iraqis. He means that they have poisoned the minds of the members by connecting them to the outside world and giving them hope for a life outside the organization which neutralizes the effects of his brainwashing. He clearly asked his followers not to let them inside the camp. It should be noted by the international observers that Rajavi describes them as poison which causes illness and which therefore should be wiped out immediately.
In these meetings Rajavi clearly stated: "as your spiritual leader I vow that the blood of anyone trying to leave us must be shed". Then Rajavi pointed out that there is no sin worse than leaving his cult and the person who does so must be most severely punished. This should be noted with all seriousness by the western countries. One can ask what more a man should say to reveal his murderous thoughts.
We also know that in Europe the MEK forces have been instructed to tackle the opponents by all means, even physically. In previous years Rajavi has vowed that in case his cult is dismantled, those still loyal to him must eliminate those who have left the organization.
Sahar Family Foundation, while welcoming the departure, although small in number, of residents out of Iraq, is demanding that the process be speeded up and the victims and hostages of Rajavi are moved to a place where they are able to have contact with the outside world, particularly with their families. From there they can decide freely and sensibly about their destinies. Those responsible in this respect must put all political obligations aside and give more acceleration and momentum to the action.