Iraqi authorities deny allegations of shutting off power and water to Camp Ashraf
MEK, an Iranian dissident group, has accused the Iraqi authorities of cutting off water and electricity to a contested northern camp used by its members, a charge the Iraqi government denied Sunday.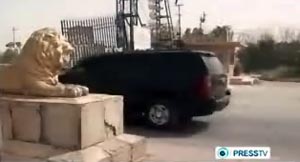 The dueling accounts over services are the latest twist in a long-running dispute between the Mujahedeen-e-Khalq dissident group and the Iraqi government over Camp Ashraf, a Saddam Hussein-era community in northeast Iraq that the exiles never wanted to leave.
The dissident group, known by the acronym MEK, alleges that Iraqi authorities shut off power and water supplies to Camp Ashraf on Aug. 10. It claims that Iraqi forces are hauling off parts of the camp's water system, and says some of the roughly 100 residents are becoming dehydrated inside the camp from a lack of water.
Georges Bakoos, who oversees the MEK issue for the Iraqi government, dismissed the dissident group's allegations as "propaganda." He acknowledged there are occasional power cuts at the camp but said they are no different as those in other parts of Iraq.
"I can assure you no order was given" to cut off supplies, he said. Iraqi officials are, however, moving ahead with court proceedings to evict the Camp Ashraf holdouts, possibly as soon as in the next few weeks, Bakoos said.
Most of Iraq lacks a steady supply of electricity. The power supply grows even spottier when demand spikes during the sweltering summer months.
A spokesman for the MEK, Shahriar Kia, said late Sunday that authorities had agreed to provide "limited hours of water and electricity" after more than two weeks of what he described as a total cut of the services.
The MEK is an opposition group to Iran's clerical regime that fought alongside Saddam's forces in the 1980-88 Iran-Iraq war. Several thousand of its members were given sanctuary at Camp Ashraf. The group renounced violence in 2001 and was taken off the U.S. terrorism list last September.
Iraq's current Shiite-led government, which has strengthened ties with neighboring Shiite powerhouse Iran, considers the MEK's presence in Iraq illegal and wants its followers out of the country. It has been working with the United Nations to resettle MEK members, but the process has been slow.
The spokeswoman for the U.N. mission to Iraq, Eliana Nabaa, said U.N. officials are not on the ground at Camp Ashraf and could not confirm the claims about the power and water cuts.
"We take it seriously and are in constant touch with the government of Iraq, and continue taking it up with them to make sure that delivery of Camp Ashraf residents' humanitarian needs is secured," she said.
More than 3,000 MEK members who once lived at Ashraf reluctantly relocated to a former U.S. military base near Baghdad last year. It is meant to be a way station for the exiles while the U.N. works to resettle them outside Iraq.
Two raids by Iraqi security forces on Camp Ashraf before residents were transferred to the Baghdad camp left more than three dozen people dead.
The Baghdad-area camp, known as Camp Liberty, has since been targeted by militants in rocket attacks that have killed 10 people and injured many more, according to the MEK.
A total of 162 MEK members have been resettled abroad so far, mostly in Albania.
By ADAM SCHRECK