BAGHDAD: A UN team visited a camp housing Iranian exiles north of the Iraqi capital yesterday as investigators tried to establish how 52 members of the anti-Tehran group died over the weekend.
The deaths of the members of the People's Mujahedeen Organisation of Iran (PMOI), confirmed by a senior Iraqi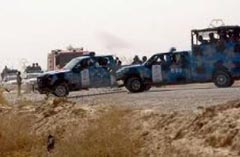 security officer, were met with international condemnation. But the UN and Western governments have been careful not to assign blame amid wildly conflicting narratives.
Prime Minister Nouri Al Maliki set up an inquiry in the aftermath of the deaths, with findings due in the coming days, and a UN team visited the camp in Diyala province near the border with Iran to try to establish what happened.
"This morning, we entered Ashraf and found 52 bodies in one place," a senior police officer who was part of the Iraqi premier's investigating committee said.
The officer, who did not want to be identified discussing the inquiry, said investigators found a "huge amount of TNT and explosive materiel inside cars, houses and heavy machinery". He said 42 members of the PMOI were still alive, but accused them of not cooperating with investigators by refusing to hand over corpses and moving bodies from their original locations.
The officer claimed the deaths were probably caused by infighting within Ashraf. His account is sharply contested by the PMOI, however, which charges that Iraqi forces entered Ashraf, killed 52 of its members and set fire to the group's property and goods.
It said Iraqi forces had carried out a "massacre" and the group's members at Liberty, another camp near Baghdad, began a hunger strike yesterday, a spokesman said. "The residents will continue their hunger strike until the full cessation of killings in Ashraf and the release of all hostages, and until the resolution of the issue of security for the residents of Ashraf and Liberty," a PMOI statement said.
Iraqi officials insisted that no soldiers entered Ashraf, and said explosions were triggered by mortar fire or the detonation of a barrel of oil or gas.
The UN team that visited the camp was due back in Baghdad soon, but mission spokeswoman Eliana Nabaa said no further information was likely to be released until later in the week.
"There was a mission that went (to Ashraf) a little bit earlier to see what they can do there," Eliana Nabaa, spokeswoman for the UN mission in Iraq, said. "They will try to determine the facts."
The violence was condemned by the UN's refugee agency, which is charged with relocating the group's members outside Iraq, and the US State Department, but neither assigned blame for the unrest.
London-based Amnesty International, meanwhile, noted that the events were "disputed", and called for an impartial inquiry.