Iraqi forces attacked Camp Ashraf at last midnight.
Reports suggest the clashes on September 1st, left some members dead and injured and some have been arrested by the Iraqi forces.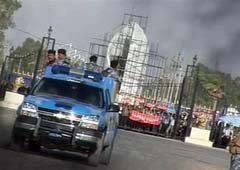 There is no confirmed report on the grounds of the attack.
The Camp Ashraf accommodates about 100 MKO members and the rest have already been transferred to Camp Liberty as a temporary location in preparation for resettling in other countries.
The Iraqi Government has on several occasions declared its intention to completely evacuate the Camp Ashraf.