Although Canada is not party to the P5+1 nuclear negotiations, the Canadian parliament's all-party Iran Accountability Week aimed to put pressure on Iran over its human rights record. Instead, it degenerated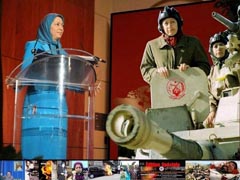 into another crude attempt to fuel enmity and hatred and prevent any rapprochement between Iran and western powers, even a clumsy attempt to create conditions which would derail the negotiating process. The weeklong series of events backfired badly as Ali Gharib writing in The Nation revealed.
The inclusion of the Mojahedin Khalq's notorious second in command, Maryam Rajavi, who describes herself as the 'president-elect' of a future Iran, was guaranteed to create controversy. The MEK itself has a well documented history of human rights violations. The group is hated by Iranians inside and outside the country.
Predictably, several participants pulled out of the event. Most notably Dr. Ahmed Shaheed, the UN Special Rapporteur on the situation of human rights in Iran.
Among the others there were divisions. Some indicated that the inclusion of Maryam Rajavi is not in the benefit of Israel, others clearly scorned her presence, as Ali Gharib reported: "One human rights advocate working on Iran, who asked not to be named, raised the issue of other advocates' sharing a platform with the head of the MEK, which the activist called "toxic and irrelevant"—a view widely held among Iranians of all political stripes, save members of the MEK itself."
The result was that Maryam Rajavi's backers were forced to get her to water down her speech, to narrow it down to talking about the MEK's camps in Iraq and what is happening there and not to use the event as a platform for wider anti-Iranian attacks. Even then Rajavi had nothing but MEK propaganda, riddled with lies and misinformation, to tell the assembly.
The Skype appearance followed a failed attempt to get Rajavi a US visa during the P5+1 negotiations on May 8. It was known that Rajavi had also applied to visit Canada, but apparently she wasn't welcome there either, and in the end Rajavi's speech from her headquarters outside Paris had to be censored to render it bearable if not credible for real human rights advocates and activists who attended. Even then they felt they had been deceived and tricked into listening to someone contemptible.
The presence of Maryam Rajavi – an advocate of the Saddamists, Al Qaida and ISIS in Iraq – exposes the real agenda behind the so-called human rights advocates who invited her. While it is understandable that MOSSAD may use the MEK as a mercenary force to assassinate Iranian scientists or for information laundry, nobody will accept the MEK as humanitarian. This is simply the wrong tool for the wrong job.
Anne Khodabandeh (Singleton), Middle East Strategy Consultants,