Frustrated by the newly established relations between the West and the Iranian Government, the Mujahedin Khalq Organization is seeking new tactics to run its hostile policies against the Islamic Republic or in better words to prolong its survival.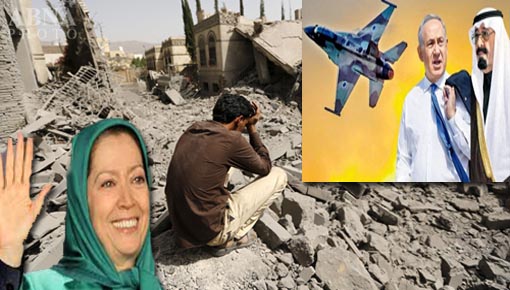 While 14 years of launching disinformation campaign by the MKO against the Iranian nuclear program, failed to win the world's attention, this time the group crisis makers are endeavoring to trigger the tensions between Tehran and Riyadh.
MKO Leader Maryam Rajavi in a meeting with Saudi Ambassador to Paris, Mohammad Al Sheikh, said that the group is willing to cooperate with Riyadh to carry out its attacks against the Yemen, reported FNA. [1]
Rajavi and Al Sheikh have met several times in Paris so far and Rajavi has thanked the Al Saud regime for its support and financial assistance over the past years, according to the report. [2]
Saudi-led coalition began air strikes in Yemen in March in a campaign to restore Yemeni President Abd-Rabbu Mansour Hadi to power. He was forced to flee in March and consequently the Shiite Houthis took control over Sanaa in September and then thrust into central and south Yemen. A large number of civilians have been killed and wounded in the conflict since March 19.
The leader of the MKO offers help to Saudi Arabia despite the fact that Human Rights Watch said in a report on Sunday that three bombings it had investigated in the northern province of Saada used cluster bombs, which are banned by most countries, adding that it suspected the munitions were fired by Saudi-led forces. [3]
"These weapons can't distinguish military targets from civilians, and their unexploded submunitions threaten civilians, especially children, even long after the fighting," said Ole Solvang, senior researcher at Human Rights Watch. [4]
Furthermore, mutual cooperation between the Cult of Rajavi and Saudis have been reported several times over the past decades. However, such cooperation become more visible since the downfall of the cult's former sponsor, Saddam Hussein.
According to the Middle East Press, "Rajavi further added to Saudi ambassador in France that they appreciate Saudi kingdom for its financial support to this organization in recent years and announced their readiness to do missionaries for Saudi Arabia for getting rid of financial problems that have been caught in 4 past years and also to release of Iraqi government's pressure to leave the country and asked Saudis to provide them a suitable base, anywhere in Saudi Arabia, to settle there." [5]
The news had been somehow confirmed by the MKO's propaganda websites too. According to them," Maryam Rajavi on Thursday described the joint action by Arab countries against the Iranian regime's occupation and aggression in Yemen as an extremely essential and inevitable united action."
The MKO's alleged statement ends with expressing pleasure over "several airstrikes on Houthi positions in Yemen, destroying most of an airbase used by the militia in Sanaa ", although the airstrikes used cluster bombs that targeted innocent civilians including Children.
Mazda Parsi
References:
[1] Fars News Agency, MKO Voices Readiness to Help Saudi Arabia in Yemen, May 30 2015
[2] ibid
[3] Aboudi, Sami & Browning, Noah, Arab war planes bomb Yemen; exiles report U.S.-Houthi talks, Rueters, May 31, 2015, Reuters
[4] ibid
[5] Middle East Press, MKO Ready to help for all Sorts of Assistance to KSA, May 30 2015