In March, Westminster became the focus of Kurdish activities. The respected Centre for Kurdish Progress organized a packed event in Westminster to celebrate Norouz. (The Iranian New Year fell on 20 March this year.)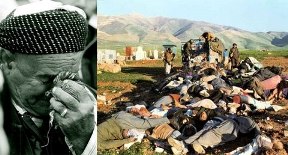 March 16 however marks the anniversary of the day in 1988 when Iraqi war planes and artillery pounded the Kurdish town of Halabja in northern Iraq with mustard gas and the deadly nerve agent sarin. Some 5,000 people – mainly women and children – died on the day, and up to 12,000 have lost their lives since. A packed rally in Westminster allowed Kurds and sympathisers to remember this tragedy inflicted on them by Saddam Hussein.
Both events were attended by leading politicians, Jeremy Corbyn, Jason McCartney, Hilary Benn and Middle East minister, Tobias Ellwood.
Those familiar with these issues will be aware of the role of the Mojahedin Khalq in supporting and facilitating Saddam Hussein's genocidal attacks on Iraq's Kurdish population. The MEK's Morvarid [Pearl] Operation in March 1991 targeted and killed thousands of Kurdish civilians in an attempt to crush their uprising following Gulf War I.
In spite of this history, the MEK rallied its lobbyists to try to push the name of Maryam Rajavi under the nose of parliament. In an act of astounding chutzpah, Labour MP for Brent Central Dawn Butler eagerly submitted a written question on March 15: To ask the Secretary of State for Foreign and Commonwealth Affairs, if he will invite Maryam Rajavi to visit Parliament and the UK.
As Middle East minister, Tobias Ellwood, with Halabja no doubt fresh in his mind, gave a short, definitive reply on March 23: Maryam Rajavi remains excluded from the UK and Her Majesty's Government has no plans to invite her to visit the UK.
Dawn Butler needs to perform a little more fact checking if she is to retain any credibility.