A group of 100 MKO members left Iraq to Albania
Another group of Mujahedin-e Khalq members residing in Camp Liberty, Iraq transferred to Albania, Neday-e Haghighat website reported.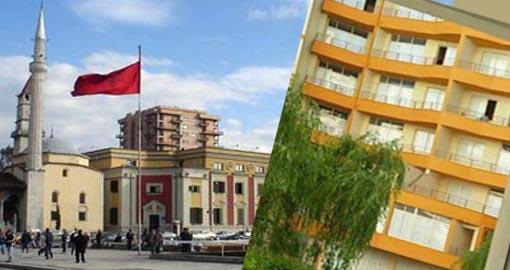 This is the fourth group to be relocated in Tirana during August.
Iran's Ambassador to Baghdad said on Thursday August 5, that the remaining members of MKO will be deported in 45 days.
The names are as follows:
Samaneh Abbas-zade
Sahar Gholamali
Ghader Diyanat
Mohamamd Saleh-pur
Fatemeh Nuri
Neda Adnani
Robabeh Haji-baba
Raziyeh Zhiyani
Mehri Javaherian
Mahnaz Babaei
Bahareh Baraei
Raheleh Mohseni
Abbas Davari
Asghar Jalalian
Mahboubeh Gholam-nejad
Nasim Shah-karami
Damuna Taavoni
Hejrat Moezzi
Mahnaz Borji
Shahrzad Khoshkalam
Atefeh ( Mina ) Rezaei
Maasumeh Malek-Mohammadi
Nahid Saadat
Javad Ghadiri ( aliases Ali Saadat)
Jalil Faghih Dezfuli ( aliases Bahram Moezi-fard)
Mahnaz Nudeh Farahani
Gohar Mohajeri
Sahar Senobari
Zahra Fonudi
Negin Gharaei
Fereshteh Shojaei
Somayeh Mohamamdi
Fereshteh Khalili
Homa Robubi
Roya Nik-Talean
Sara Dorudi
Sepideh Ayat
Heshmat Tiftak-chi
Parvaneh Latif
Shirin Rahimi
Zohreh Shirani
Nadereh Afshar
Marziyeh Karami
Neda Amin Anaraki
Monireh Momeni
Ghazaleh Yazdan-nejad
Mahnaz Shahi
Maryam Dolfi
Nasrin Meyari
Sara Rohaili Khorasani
Mahnaz Afshar ( aliases Hashemi)
Somayeh Shabani or Shaabani
Maryam Parvin ( aliases Jamshidi)
Mohtaram Hakim-pur
Parizad Nuri
Maryam Sadeghi
Samra Bozorgan-fard
Vahideh Shah-karami
Amineh Shalchi
Sudeh Abbasi ( Aliases Gholami)
Forough Kalbi
Maryam Farsi
Nasrin MOhamamdi
Ronak Nikbakht
Forough Shah-karami
Narges Tarighat
Puran Pur-Asgharian
Shahnaz Razani
Akram Chazani
Halimeh Zahed
Nahid Asadi
Mahsa Nokhbeh Zaeemi
Elaheh Zakeri ( aliases Farkhondeh )
Sabereh Ashraf Samani
Azadeh Mamghani Motlagh
Shahabeh Barouti
Galavizh Kohzadi
Ashraf Vakili
Saman Ghobadi
Zahra Kuhneshin
Elaheh Rashidi
Shokat Akhondi
Asghar Purya Mofrad
Mohamamd Hejazi
Hesam Ameli
Hadi Nasiri
Saeed Bagher-zadeh
Abdolmajid Bordbar
Shahram Hesami
Massoud Rajabi
Zahra Tavakoli ( aliases Nosrat)
Marjam Moadab
Javad Borumand Jahed ( aliases Abbas Nozar Afshar)
Ali Baraei
Mostafa Zandiyeh
Mohammad Shayan
Jahangir Ghaem-Magham Vaziri
Mehdi Aghvami
Salman Bagher-zadeh
Behzad Mohammadi Raoof