MKO hostages' mothers pen letter to the chief of UNHCR
The forgotten victims of the Rajavi Cult (MKO, MeK, NCR) demand information on their children.
More than 350 suffering mothers of the members of the Rajavi Cult, who live in Iran and who have been deprived of contact with their children and are known as the forgotten victims, have collectively written a letter to Mr Filippo Grandi, Head of the UN High Commission for refugees in Geneva.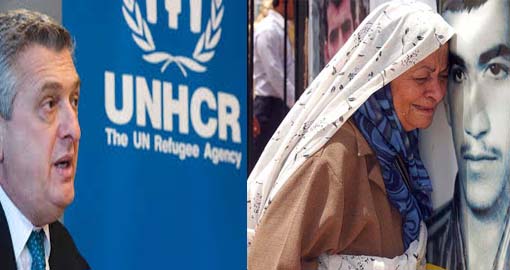 The text of the letter signed by more than 350 mothers is as follows:
Mr Filippo Grandi
United Nations High Commissioner for Refugees,
Geneva, Switzerland
Tehran, October 30, 2016
With regards, as you are already aware, the Mojahedin-e Khalq Organization does not allow its members any sort of contact with their families and this fact has imposed a great deal of suffering on us as their mothers.
Today in Europe, mothers whose children have been recruited by ISIL and been sent to Iraq and Syria and other parts of the world, are called 'the forgotten victims' since they have no means of contact with their loved ones and do not have any information about them.
If you look at our case, we are even more forgotten than those mothers, since unlike them we have not been able to attract any world attention because of political reasons. We do know the whereabouts of our children and have approached them many times and have even gone as near as about 100 meters to them in Iraq. But the MEK leader Massoud Rajavi has denied us from having any contact with or knowledge about our children.
Now that the MEK have all moved to Albania we urge you, as the head of the body responsible for them and their location in Tirana, to use your authority to arrange meetings with our loved ones and let us know about them and how we can contact them. Please do not leave us suffering the way it is at the moment and has been in the past.
We are certain that you can easily arrange this. Therefore, we ask you to respect ours and our loved ones' human rights and putting aside all the political and regional and international issues; please be brave and help us as mothers to have our rights.
Best Regards,
Signatures