Reported by BBC originally in Persian, a group of Mojahedin-e Khalq's detached members arrived in France. It is the first of a number of groups that managed to leave Iraq for a Western country.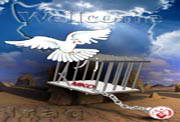 In the past months, groups of separated members have struggled to get to Western countries through neighboring countries. Many of them were arrested especially in Turkish borders and were returned to Iraq. Following Saddam's fall, a big number of MKO's members held within the Camp Ashraf against their will, found the opportunity to escape the cult and take refuge in an American-run temporary facility not properly accommodated for the huge number of defectors.
A reported number of 380 have already returned to Iran under the auspices of the ICRC but there are still many who have filled to be granted refuge in Western countries.
BBC persian, April 06, 2008:
http://www.bbc.co.uk/persian/iran/story/2008/04/080405_bd-mko.shtml
Link to Aria Association report: