Iraqi courts will prosecute top members of the Mujahedin Khalq Organization (MKO) on the charge of killing civilians in the country.
"The Iraqi government has urged 22 leaders of the anti-Iran MKO group to appear in court to be held accountable for their crimes," IRNA quoted head of the Center for Iraq Media Development, Adnan al-Seraj, as saying on Saturday.
According to al-Seraj, Iraqi courts have already convicted 450 senior MKO members on charges of killing and acts of sabotage, most of whom have escaped from their headquarters and training site at Camp Ashraf — located in Iraq's Diyala Province.
"The prosecution is brought against 22 members who remained in the camp," the official said.
Based on the Iraqi Constitution, the MKO terrorist group is banned from its activities in the country.
After the finalization of a security agreement between Baghdad and Washington, Camp Ashraf was placed under Iraqi control as of Jan 1, 2009.
The Iraqi government now seeks the expulsion or separation of the MKO, which it holds responsible for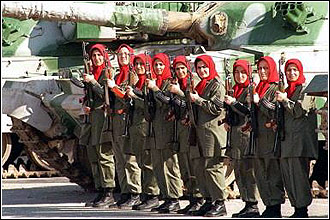 attempting to destabilize the country, insisting that "staying in Iraq is not an option for them".
Blacklisted as a terrorist organization by many international organizations and countries, including the US, the MKO has claimed responsibility for numerous bombings, killings and attacks against Iranian officials and nationals over the past 30 years.
The attacks include the assassination of the late president Mohammad-Ali Rajaei, prime minister Mohammad-Javad Bahonar and Judiciary chief Ayatollah Mohammad Beheshti.
After its exile from Iran, the MKO settled in Iraq where it enjoyed the support of former Iraqi dictator Saddam Hussein and assisted him in the massacre of Iraqi civilians.
Tehran has long called for the expulsion of MKO members from Iraq, saying that any members of the group who have not participated in terrorist activities can return home.
All MKO members who have organized or carried out criminal acts must stand trial if they wish to return.
http://www.presstv.ir/detail.aspx?id=90458