Massoud Khodabandeh to the European Parliament in relation to a proposed resolution on Camp Ashraf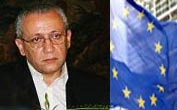 As you are aware, since December 2003 successive Iraqi governments (from the first interim government to the present elected government) have demanded that the American Army remove Camp Ashraf and the foreign terrorist Mojahedin-e Khalq (MEK) militants in it from their country. This is not a new demand and is based on the MEK's historical enmity toward the Iraqi people for two decades as part of the suppressive apparatus of Saddam Hussein.
Only since the American Army handed over responsibility for Camp Ashraf in January this year has it been possible for the Government of Iraq (GOI) to take action toward removing the MEK and closing Camp Ashraf as a fundamental aspect of taking full, sovereign control of the country. The GOI's first and basic demand is that the individuals resident in the camp obey Iraqi and international law. The MEK, in any country they reside, regard themselves as 'outside the law' of that country – true outlaws. How and why they escape justice in these countries of course requires explanation from the governments and judicial systems of those countries. But for now, the Iraqi Government appears to be the only entity which is prepared to challenge this situation and to its credit is being completely open about the process.
As you are aware, there are 25 American soldiers posted at Camp Ashraf. To date, they have not reported any activity by the Iraqi authorities in pursuit of this sovereign right to dismantle and remove a dangerous, destructive terrorist group from the country which has given rise to concern.
On the contrary, there is plentiful evidence that the leaders of the MEK, Massoud and Maryam Rajavi, continue to preside over a situation inside Camp Ashraf in which the individual members are subjected to a harsh and unremitting regime involving daily violations of their basic human rights. An article in The Economist (April 8, 2009) stated: "the PMOI is widely reviled by human-rights groups for nurturing a messianic cult of personality around Mr Rajavi and his wife, Maryam, and for enforcing a totalitarian discipline on its adherents. Several defectors testify, in the words of one of them, to a "constant bombardment of indoctrination" and a requirement to submit utterly and unquestioningly to the cause. No sources of news are allowed without the PMOI's [MEK's] say-so."
I believe it is abundantly clear that in relation to human rights violations of the individuals living inside Camp Ashraf, it is the MEK itself which has proven to be the perpetrators. The MEK has also been actively obstructive, indeed provocative, toward those wishing to investigate and alleviate this suffering. So plentiful is this evidence that, after becoming aware that a resolution is proposed in the European Parliament in relation to Camp Ashraf and the people in it, I have been surprised to find that no representatives of the European Parliament have been on an official visit to Baghdad or to Camp Ashraf to investigate the issue. Indeed, it appears that no official contact whatsoever has been made by the European Parliament with the Government of Iraq to discuss this highly sensitive issue.
I urge the European Parliament to redress this glaring omission at the earliest opportunity. The GOI has been commendably transparent in explaining its activities vis-à-vis
Camp Ashraf and has shown itself ready to answer any questions. The GOI should have no hesitation in providing full access to Camp Ashraf to officially organised investigative missions, whether by political entities or humanitarian agencies.
Indeed, I have no doubt that the GOI would welcome international oversight of its activities in relation to Camp Ashraf. Dr. Mowaffak al Rubaie, Iraq 's national security advisor's plan for the difficult task of dismantling an extremist cult has revealed an enlightened, humanitarian approach which could become a blueprint for tackling similar organisations worldwide.
Dr. al Rubaie has stated: "This is an indoctrinated and tightly disciplined organization of extremist zealots who have employed terrorism and at times even self-immolation to secure their aims. In normal everyday language we can say that they have been "brainwashed". He adds, "The Government of Iraq does not deal with the MEK as an organization. We deal with the residents as individuals."
Under observation by the ICRC and the Iraqi Ministry of Human Rights, Dr. al Rubaie has focused efforts to protect the individuals inside the camp following allegations that human rights abuses are being perpetrated by MEK leaders against the residents. To this end he has said, "We believe that if we can separate individuals from the all-encompassing domination by their leaders, we can allow them to begin to exercise their rights as individuals and make appropriate choices. That is, we hope to remove them from the toxic effects of their indoctrination and leaders."
In response to the many obstacles thrown up by the MEK to their removal from Camp Ashraf, Dr. al Rubaie said, "The Iraqi Army unit posted to defend and secure
Camp Ashraf has exercised patience and extreme restraint in spite of the staged provocations and demonstrations that Ashraf's self-appointed leaders have launched in defiance of the legitimate exercise by the Government of Iraq of its sovereignty." "Ashraf is not above the law," said Dr. al Rubaie.
The Iraqi government has given guarantees that none of the captives will be forced to return to Iran against their wishes. The most serious threat to those left in Camp Ashraf comes from the MEK cult's leaders, Massoud and Maryam Rajavi. They will want to use their blood to extricate themselves from this crisis. American media has already quoted MEK officials threatening a 'humanitarian catastrophe' at Camp Ashraf. Experts in cult activity and experts on the MEK have interpreted this as the threat of mass suicides of residents by order of the MEK leaders.
I urge European and international governments as well as humanitarian agencies to cooperate fully with the Iraqi authorities to help restore basic human rights to the people trapped in Camp Ashraf.
I urge the European Parliament to give its full support to the Government of Iraq. Any resolution should reflect the realities on the ground and give support to the humanitarian approach taken by the Government of Iraq to resolve this difficult problem.
The aim of a European Parliament resolution must be to prevent any further political abuse of Mojahedin-e Khalq members in Camp Ashraf held captive by their leaders, and guarantee the individual rights of those who renounce violence and are willing to return to society.
A resolution should, above all, reflect the responsibility of European countries toward the victims of the Rajavi cult. In particular, for individuals in Camp Ashraf with residency or asylum rights in European countries, provision should be made in the resolution to work with the GOI for their rapid transfer back to these countries.
A resolution should, as a minimum, include the demands that:
1. The GOI re-open a separate temporary camp adjacent to Camp Ashraf to which people can physically escape and not be forced to continue as members of a foreign terrorist group in Iraq against their will. (Sahar Family Foundation has a list of over 200 individuals who have expressed their desire to leave the MEK but who have no alternative place to go until their final destination is determined.)
2. The MEK should be required to allow free and unfettered access to all of the individual residents inside Camp Ashraf to the Iraqi authorities and to official humanitarian investigative agencies.
3. The MEK should be required to allow free and unfettered access to the immediate family members of all the individual residents inside Camp Ashraf without supervision by MEK operatives.
4. The MEK should be required to allow all residents of Camp Ashraf access to external information, internet, radio, television, books, newspapers and conversation. Gender integration must be reinstated.
5. The European Parliament should work with the UNHCR to find third countries to which the individuals in Camp Ashraf can be transferred. Those with residence and/or asylum rights in European countries should be helped to return and reintegrate into normal society.
6. Mojahedin leaders, Massoud and Maryam Rajavi, and other leading members who have escaped the camp should be arrested and brought to justice through international courts.