Dear Sir,
Today the European Parliament adopted a resolution on 'the humanitarian situation of Camp Ashraf residents'.
Although the expectations in the resolution fall far short of what the Government of Iraq has actually done since 1st January 2009 in order to pursue a humanitarian path toward dismantling the camp and freeing its residents, we feel certain that you will welcome this resolution as an expression of concern by members of the European Parliament that your government be protected from malicious accusations of wrongdoing in pursuing your sovereign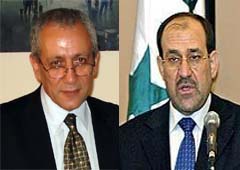 rights and responsibilities.
Unfortunately the resolution contains some regrettable factual errors (as you are fully aware, the Fourth Geneva Convention has not applied to Camp Ashraf residents since June 2005 and the UNHCR has determined that Camp Ashraf residents do not qualify as refugees), but in spite of this we must warmly congratulate the Government of Iraq on the fact that it has already over-exceeded the requirements of the resolution in guaranteeing the humanitarian treatment of Camp Ashraf residents.
Indeed, the plan pursued by your National Security Advisor, Dr. Mowaffak al Rubaie, has shown a profound understanding of the real problems faced by residents in the camp. The enlightened and humanitarian actions, in the face of severe provocation by the MEK leaders, which have already been put in place will, I am sure, become an example for other national governments which may be faced with the task of dismantling a dangerous, destructive cult as is the MEK.
The Government of Iraq is not only fulfilling the articles of the resolution but has without a doubt exceeded expectations in its humane treatment of the residents of Camp Ashraf.
However, I am sure you will agree that your Government faces two main obstacles in fulfilling the obligations which you have set for yourselves and which are repeated in the resolution.
The first is that the MEK has created various obstacles and mounted severe provocations which demonstrate that the group's leaders will not cooperate in any way with your government's efforts to safely secure the individual futures of the residents. Indeed, through their continued refusal to abide by Iraqi and/or international law the people residing in camp Ashraf have regrettably defined themselves as outlaws.
The second obstacle is that the expected help and cooperation from other national governments, particularly those of the European Union in fulfilling their obligations under article 4 of the resolution, has not been forthcoming. It is becoming clear that although western governments are willing to talk about their support for the MEK, none are willing to accept the residents as refugees in their countries.
In light of the failure of western democratic governments to offer concrete help to the people of Camp Ashraf in the form of places of refuge, may we urge your government to look further afield.