At 0810 gmt, Iranian News Network (IRINN) started to broadcast live a joint news conference between the Iranian and Iraqi foreign ministers.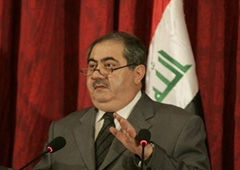 The Iraqi foreign minister, Hoshyar Zebari, was asked if Baghdad would take Iran to international courts if Tehran did not withdrew its forces from Iraq.
In response, the Iranian minister, Manuchehr Mottaki, said that each country's border guards were stationed on the right sides of the border and that the two sides were working on demarcation of borders.
"I should tell the people of Iran and Iraq that the two countries have very amicable ties… and no one can undermine those ties," he said.
Hoshyar Zebari also said that the presence of Iranian armed opposition Mojahedin-e Khalq Organization (MKO) and Kurdish PKK could not continue in the country based on the Iraqi law.
The news conference ended at 0816 gmt.
Source: Islamic Republic of Iran News Network, Tehran, in Persian 0810 gmt 7 Jan