The crisis of Camp Ashraf: Mujahedin Khalq want to stay in Iraq and defectors want amnesty letters.
There are a number of Iranian dissidents in Camp Ashraf. The number mounts to 3000 people of whom 70 percent are in their fifties. Lately the Iraqi government has changed the name of the camp to Camp of New Iraq.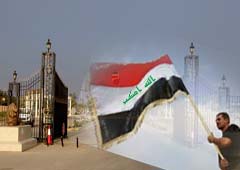 Following their clashes with intelligence, political forces, these dissidents have entered a phase allegedly called"Organizational Stability". Do they still want to continue their presence in the Camp; although most of Iraqi authorities oppose their presence in Iraqi territory? Is there any Arabic country willing to accept them? Such as Egypt which has cut the ties with Iran for thirty years now. Will Iranian authorities forgive them or grant them amnesty if they return to Iran? Will American forces accept to support the group as a pressure lever against Iran in their debate on Iran's nuclear activities?
The only achievement the group gained in the last twenty years was its removal from EU's terrorist list which caused Iranian's anger.
An Iranian official in an interview with Asahrq Alawsat ,said:"Mujahedin Khalq is no more a danger for Iran and a threat to Islamic Revolution since they are besieged and have no hope for their future."
For the time being, MEK claim that they are under the pressure by Iranian Intelligence Ministry and Iranian intelligence agents have come to Camp under the cover of the families of Ashraf residents! MEK sends letters to international human rights bodies. On the other hand, the men, women and youth waiting at Ashraf gates for several weeks, say: We are here only to visit our children .we don't want to make them return, they are free to choose their fate but we want to know about their health, to know whether they are living or dead!
Some of these women come to Camp Ashraf from different Iranian cities and no one responds them about the fate of their husbands, fathers, sons or daughters.
Mr. Mohammd Bagher Momen Zade, former member of MEK told our reporter in Shiraz (a city in 1000 Km south of Tehran):"the families want to get some news about their children or relatives whom they have not seen for thirty years."Some of those who came to Iraq"have been helped by a branch of Nejat Society"he added.
The daughter of one of Ashraf residents' states:"the trip to Ashraf was so stressful and worrying. Every night I see my father in my dream, he seems to call for me. I have no idea if he is still alive or he is dead."A woman is with her, she carries a photo of his son,"Hussein". A man called Yousefi also has the photo of his two sons Ali and Barat, but they all look disappointed and depressed behind Ashraf gates.
They shout"Allah U Akbar"[God is the greatest]; Ya Hussein"[Hussein is the third Shiites' leader] some of the elderly fall down due to extreme tiredness. The girl is making another effort to open the gates and reach her father."If they open the gates and we enter, we don't know where to go. Iraqi soldiers accompany us, showing us the buildings but no Iranian is seen in the camp"she says.
Mohammd Bagher Momen Zadeh, lived in Ashraf for a lot of years. He attended some terrorist operations. He worked as a reporter between leaders and members. When he disobeyed the orders, he was sent in to prison and Iraqi judiciary sentenced him to six years of imprisonment because of his illegal arrival to Iraq. And then the Iranian authorities condemned him to ten years of imprisonment in Evin Prison under the charge of commitment of terrorist operation in Tehran and Shiraz…
"I was thirteen when I joined MEK. I attended two terrorist operations so I was sentenced to ten years of imprisonment in Evin. When I got back to Camp Ashraf I saw a lot of big changes in the organization. After a year I told them that I was not able to continue and I wanted to leave Iraq and that was why I got into trouble. I was in solidarity confinement for seven months. Together with me, about eighty other members protested against their stay in the Camp,"he says. Momen zade recalls his days in Ashraf:"Camp Ashraf had tuned into a horrifying castle where marriage was forbidden. there were weekly brainwashing sessions in which we had to confess everything that our minds were busy about. For example a comrade would come and confess that he was thinking about his family his mother or sister …, I think it was a new Islam. A lot of changes had occurred in the organization."
Momen Zadeh describes that he is a graduated of Electronic University and now he is a cameraman who films wedding parties in Shiraz."MKO delivered me and eighty other members to Iraqi Intelligence Ministry where I was under torture, beating and investigation for six months.
"The Iraqi court accused me of aggression upon Iraq borders and then I was sentenced to six years of imprisonment in Abu Qoraib, 24 hours before American invasion to Iraq, Iraqi and Iranian governments exchanged a number of their war prisoners including some of MKO members and me.
"My return to Iran and my freedom took me only one week. The Iranian authorities defined some conditions for me such as not opposing the Islamic Republic, not committing terror operations and not joining MKO anymore."
A former high ranking member of MKO told Ashraq Alawsat in Tehran:"they do not have arms. They are only trying to maintain their organization and its doctrine and obedience to its orders which is the most important to them. They think if Camp Ashraf is closed MKO will collapse."
Momen zadeh believes that the future of Camp Ashraf directly depends on the region's situation and the relations between Iran and Iraq and the interests of Iraqi government and also the negotiations on Iranian nuclear activities (…)
Today, Momen Zadeh lives with his memoirs of the terrorist operations he committed :"I exploded a car in Shiraz and I thought that I would be sentenced to death but at the time I was only thirteen. I had carried out my seniors' order."(…)
Momen Zadeh sees himself an independent individual now. Asharq Alawsat asked him:"Are you still opponent to Islamic Republic? Or do you agree with them?"
"I am a member of Nejat Society right now."He answered"this society is an NGO, it is neither a governmental organization, nor opposing the regime.
"I live in Iran as a normal citizen. I have an Iranian passport and I am able to travel to any country I want. I am a victim of terrorism. My job at Nejat Society is the arrangement of visits between families and their children in Camp Ashraf. They just want to get to know about their children to know whether they are living or dead."
"There are eighty families in Shiraz and all around Iran there are 3000 families whose children are still in Camp Ashraf."Momen Zadeh explained,"Since 2003, about one thousand members have left Camp Ashraf."
Some of Iranian independent experts who are opponents to Islamic Republic believe that Tehran authorities are behind most of those kinds of societies of which their objective is to impress Ashraf residents psychologically.
An Iranian journalist says:"I think that it is at Iran's interest that MKO maintains near Iranian borders since Iranian Intelligence is simply able to reach them and it is also for American benefit to protect Camp Ashraf in order to have an arm to threaten Iran and on the other hand it is beneficial for Iraqi political rivals to enjoy Camp Ashraf which is a part of negotiations in Iran- Iraq relations."
Most of Ashraf residents are living in poor condition. I think you cannot find a similar fate to that of MKO in the whole history. They have no certain future. A dissident, who participated in anti- election demonstrations, says:"those who return to Iran have to sign letters of amnesty and obey IRI's constitution. Some of the returnees are also supported by Iranian authorities and are used for efforts to persuade other members to return. They have granted amnesty to those MEK members who haven't committed assassinations."
Despite the old animosity between MEK and Western states that consider it a leftist organization and label it as a terrorist organization, American forces have treated Ashraf residents as refugees since 2004 until last year when the control of Ashraf was handed over to Iraqi government. After some time they were removed from EU's terrorist list and were considered as an opposition force against Iran. Mujahedin Khalq Organization accuses Iranian regime of sending its elements, under the cover of families, to Camp Ashraf and using them as a lever for psychological pressure on Ashraf residents. The psychological warfare is carried out by calling residents' names through loud speakers, knocking at gates and chanting slogans including"Dawn with MEK".
Mujahedin also accuse some Iraqi parties of facilitating the work for Iranian Intelligence agents! They claim that Iraqi Police puts pressure on Ashraf residents. Mujahedin view themselves as"Iranian refugees"that no one is allowed to submit them to Iranian regime.
MKO leaders are trying to mobilize public opinion in Europe and America in order to achieve their ideals. They asked the UN to support Ashraf residents immediately.
By Asharq Alawsat – Translated by Nejat Society