More than 3,000 Iranian dissidents who'd been threatened with expulsion from Iraq on Dec. 31 have applied to the United Nations for refugee status, a move that could help clear up one of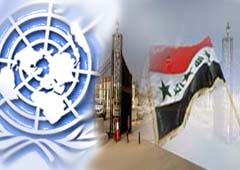 Iraq's thorniest international problems from the era of dictator Saddam Hussein, U.N. and western diplomats said Sunday.
The U.N. High Commission for Refugees said it would review the 3,200 individual applications received in the last month from Iranian residents of Camp Ashraf, north of Baghdad, which has been run by the paramilitary People's Mujahidin of Iran.
"It's a very positive step forward," said a western diplomat, who couldn't be named as he wasn't authorized to speak on the record.
Although UNHCR won't require the dissidents to disassociate from the group, it said in a recent statement that refugee status could be granted only to individuals and not to the group as a whole. In effect, the MEK, as its known by its Farsi language initials, appears to be on the verge of accepting the demand by U.S. Ambassador James Jeffrey in July to disband as a military formation.
The U.N. refugee agency has appealed to the Iraqi government to delay closure of Camp Ashraf by as much as six months, according to the Western diplomat. The U.S. Embassy hasn't yet endorsed the request and is waiting for the refugee agency to present its plan for reviewing applications, an official said Sunday. Iraqi government spokesmen had no immediate comment.
The MEK had fought as a mechanized division in alliance with Saddam Hussein during the 1980-1988 war with Iran. But it was left stranded by the U.S. invasion in 2003 that toppled the dictator. Prime Minister Nouri al Maliki has called MEK a terrorist group and demanded that Ashraf be dismantled and its members deported by the end of the year. Iraqi troops drove the point home in April in a military operation that cut the size of the camp by one-third and left at least 35 dead.
Until recently, the MEK had insisted on group refugee status, but it shifted its stance in late August following talks between Struan Stevenson, a Scottish conservative in the European parliament, and UNHCR High Commissioner Antonio Guterres in Geneva.
Stevenson said he hoped that individual requests for refugee status would lead to resettlement of Ashraf residents in the European Union and in third countries. "They have long since given up any pretense of being a military force and they have long abandoned any idea of remaining together," he told McClatchy by email.
The U.S. government has characterized MEK as a cult and designated it a terrorist group in 1997, holding it responsible for the assassinations of three U.S. Army officers and three civilian contractors prior to the Iranian revolution. With funding from the Iranian diaspora, the MEK has mounted a major campaign in the U.S. and Europe and enlisted many top national security figures from mostly from Republican administrations as well as a number of prominent Democratic politicians to get its terrorist designation lifted.
Shahin Gobadi, the Paris-based MEK spokesman, told McClatchy that all residents of Ashraf, including the leadership, had applied for refugee status, with the exception those in hospital or holding travel documents from a third country.
Meanwhile, Iran has renewed its offer to repatriate the residents of Ashraf or provide documents so they can resettle in third countries.
"We are sure that 65 to 70 percent of the people who are living in Ashraf camp are captive of the other members," Iran's ambassador to Iraq, Hasan Daniaei-Far, told McClatchy in a recent interview. "Let them be free, let them choose their own destiny."
"In case he or she wishes to go back to Iran … we will provide the necessary documents. Even if they wish to go to a third country, we will provide them the necessary documents," he said. He said hundreds who had already returned to Iran "are conducting a normal life."
The ambassador also reiterated that Iran had issued a mass pardon to the MEK members except for about 100 who have criminal charges pending against them.
Gobadi ridiculed the offer and called the assertion that MEK members were being held against their will "a big lie."
"The claim that the clerical regime would provide documents to the individuals who wish to go to other countries is not a serious point worthy of a response," he said.
He called the "claim" of a mass pardon "more of a joke" and said returning to Iran to live a normal life "means completely giving up the struggle, succumbing to the mullahs and absolute cooperation with the regime's intelligence and suppressive organs." He called it a "red line that Ashraf residents have rejected repeatedly."
James Dobbins, a respected American diplomat now affiliated with the Rand Corp., a Pentagon-funded think tank, disputed the MEK spokesman. He said a recent Rand study had concluded that most of the Camp Ashraf residents "were being held against their will" and said there was no information that those who'd returned to Iran had been harassed by the authorities. "Are they enjoying a normal life? There's no information available to the contrary," he said.
By Roy Gutman