A defected member of the anti-Iran terrorist Mojahedin-e Khalq Organization (MKO also known as the MEK, PMOI and NCR) disclosed that the terrorist group earned a big income by smuggling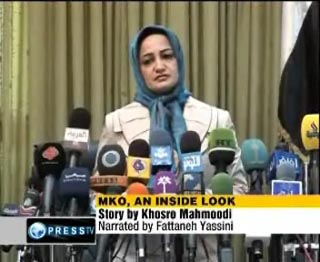 and selling Iraq's oil when the country was under an international oil embargo in Saddam Hussein's era.
According to a report by the Persian-language Neday-e Haqiqat (the Voice of Truth) website, Maryam Sanjabi, a former ringleader of the MKO, said based on the agreements held between MKO ringleaders and Iraq's officials in 1987, Saddam's regime allocated the revenues gained from selling 50,000 barrels per day of oil to the MKO in addition to arms and logistic support.
At the time, Iraq's oil exports amounted to almost 2 million barrels per day, she added.
And after Iraq's attack on Kuwait and imposition of the UN oil embargo against Saddam's regime, the MKO sold Iraq's oil in the international markets through its affiliated companies, she continued.
Sanjabi said the MKO's successful smuggling of Iraq's oil supplies to the foreign markets encouraged Saddam to increase the MKO's oil share to 70,000 barrels per day and then to 100,000 bpd.
The MKO, whose main stronghold is still in Iraq, is blacklisted by much of the international community, including the United States.
The group started assassination of the citizens and officials after the revolution in a bid to take control of the newly established Islamic Republic. It killed several of Iran's new leaders in the early years after the revolution, including the then President, Mohammad Ali Rajayee, Prime Minister, Mohammad Javad Bahonar and the Judiciary Chief, Mohammad Hossein Beheshti who were killed in bomb attacks by MKO members in 1981.
The group fled to Iraq in 1986, where it was protected by Saddam Hussein and where it helped the Iraqi dictator suppress Shiite and Kurd uprisings in the country.
The terrorist group joined Saddam's army during the Iraqi imposed war on Iran (1980-1988) and helped Saddam and killed thousands of Iranian civilians and soldiers during the US-backed Iraqi imposed war on Iran.