The intricate problem and deadlock in issue of relocation of Camp Ashraf residents to Camp Liberty is not only result of the MeK leadership's excuses and blackmail, but part of that, and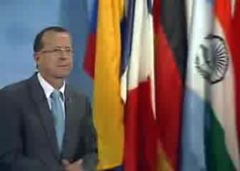 perhaps its major part, relates to the incorrect entry of the United Nations to this file and the more incorrect decisions of the UNAMI and the UNHCR on this topic.
These errors can be investigated in two areas:
First, basically the UN and the UNHCR should not follow the America's wrong path in giving special and illegal privileges to the terrorist group MeK, and during the review of Camp Ashraf residents' application for asylum , instead of being caught in the MeK leadership's trap, they should adopt a more correct decision.
The fact is that the camp's residents are guilty and the UN cannot and should not facilitate terms of harboring criminals and especially those who create plenty of potential and actual risks for international peace and security. Even if the UNAMI authorities succeed in their path, they have established a wrong tradition that causes to escape criminals from legal proceedings.
When the UNHCR engaged to process Camp Ashraf residents' application for refugee, from the first it should deal with individuals and entities, such as the all files that it handle throughout the world; but regrettably committed a fundamental mistake and attended to negotiations with the representatives designated by Rajavi, whose task was defending the organizational interests of the MeK, not humanitarian rights of the camp's residents.
The UN representatives- with good faith- from the first were just thinking about their goals and in the negotiations addressed facilitating the relocation process, while with the two mentioned mistakes they made the situation more intricate, and now suppose that by advising the Iraqi government for restraint and asking the camp residents for collaborating they can take the situation out of the deadlock.
However, the UN authorities should not just think to completion of the relocation from Camp Ashraf to Camp Liberty, but, with the experience of this level, they have to put the overall conclusion on agenda that any negotiation with the persons as representatives of the residents or, more wrong, negotiations with Rajavi's representatives is an irreversible error that will bring many times more destructive results than the current situation.