Blaming MKO for involvement in the recent political instability in Iraq, head of a newly established militant group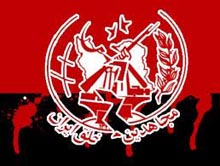 in Iraq took responsibility for the February 9 mortar attack on Camp Liberty, which temporarily houses some 3000 members of the terrorist Mujahedin-e Khalq organization.

According to Habilian Association, head of Mukhtar Army Wathiq al-Battat, in his interview with Al-Mada Press, did not rule out the possibility of further attacks on Camp Liberty, and underscored that they are in ambush for the terrorist MKO group until they leave Iraq.

Camp Liberty, formerly a US base which is now the temporary home for about 3000 MKO members, came under mortar attack on February 9, 2013, leaving a number of MKO members dead and injured.

From the very first hours, MKO started condemning Iran for carrying out the attack, but Iranian foreign ministry spokesman denied the allegations and said Iran has nothing to do with it.

In a separate interview with the Associated Press on Tuesday, al-Battat said, "It is time for the people of the MEK to leave Iraq. We have demanded that the government kick the group out of the country, but the Iraqi government did not respond positively to our demand" he said.

The Iraqi cleric said the MKO's presence in Iraq poses a "big threat" to Iraq and the lives of Iraqi people.