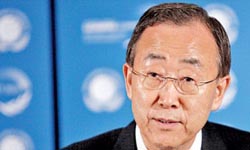 MEK lobby should stop spreading insults and falsehoods about Mr. Kobler
18 March 2013 – Secretary-General Ban Ki-moon, in a new report, voices concern about political tensions and security incidents in Iraq, which have increased in recent months, and calls on all parties to resolve outstanding issues through dialogue.
Separately, Mr. Ban and the United Nations High Commissioner for Refugees, António Guterres, today welcomed a generous offer by Albania of humanitarian admission for 210 residents from Camp Hurriya, located near the Iraqi capital, Baghdad.
The camp serves as a transit facility for more than 3,000 exiles, most of them members of a group known as the People's Mojahedeen of Iran, where a process to determine their refugee status is being carried out by the UN refugee agency (UNHCR). An attack on the camp last month left seven people dead and more than 40 injured.
"He expects and urges the residents to positively respond to Albania's offer and to cooperate with UNHCR to relocate in the coming days," said a statement issued by Mr. Ban's spokesperson. "The Secretary-General urges other Member States to follow suit and to offer residents a safe relocation outside of Iraq, in light of their need for international protection."
The statement added that Mr. Ban "unequivocally supports" the efforts of his Special Representative for Iraq, Martin Kobler, "to courageously and creatively, in exceptionally difficult circumstances, help resolve this situation."
In his report, Mr. Ban urges those who express support for the residents of Camp Hurriya and the remaining residents of another camp, New Iraq, to stop spreading insults and falsehoods about Mr. Kobler, who heads the UN Assistance Mission for Iraq (UNAMI), and instead help to promote a durable solution.
He adds that the significant funds evidently spent on high-profile lobbying could be more usefully utilized to improve aspects of the humanitarian conditions often cited in media and lobbying campaigns.
More generally, Mr. Ban writes in the report that the security environment in Iraq remained "volatile and unpredictable" in recent months, fuelled by political and sectarian tensions.
He appeals to all parties to intensify their efforts to find solutions to longstanding political, legislative and legal issues through dialogue and in a spirit of compromise and flexibility.
The protests that erupted in late December in various parts of the country, as well as the relations between the Iraqi Government and the Kurdistan Regional Government, which deteriorated in late November over the issue of security coordination in the disputed territories, has presented "major challenges" for the Government of Iraq ahead of the upcoming governorate council elections scheduled for 20 April, notes Mr. Ban.
He urges the Government of Iraq and the Kurdistan Regional Government to resume dialogue, noting that transparent and accountable sharing of power and resources is essential for ensuring further political stability, economic growth and prosperity for all. "There is no alternative to peaceful coexistence in a united federal Iraq," he stresses.
Commenting on the upcoming elections, Mr. Ban urges the relevant authorities to ensure the fair representation of women and minorities in elected bodies, including by adopting the recommendation of the UN Assistance Mission for Iraq (UNAMI) that a 25 per cent quota for women be enshrined in the electoral laws, applicable to all elections.
Meanwhile, he continues to have serious concerns about some aspects of the administration of justice in Iraq, including reports of abuse and mistreatment of prisoners and detainees, failure to respect due process and shortcomings in meeting fair trial standards.
"I am also concerned by the particular difficulties faced by women who come in contact with the criminal justice system," he writes. "I urge the Government of Iraq to ensure that due process is fully respected in line with the Constitution, as well as international human rights law obligations, while at the same time ensuring that alleged cases of abuse and mistreatment are thoroughly investigated and that those responsible are held to full account."
He also calls on the Government to investigate the 9 February attack on Camp Hurriya, and to show flexibility in finding a constructive solution for the resolution of the property issue in Camp New Iraq.
The residents there, numbering 100, insist that their relocation cannot occur until the issue of movable and immovable property is resolved. He urges the residents to engage on this issue, as well as to engage with the UNHCR resettlement process.