Nasrin Ebrahimi is a former member of the Mujahedin Khalq Organization, who fled the group in 2006. She was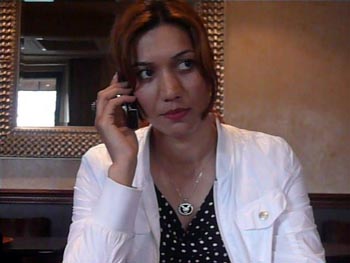 one of the first survivors of the Cult-like MKO who dared to reveal the corruption of the leaders of the group. She was the first person to speak of the "Summit Operation" which was a cult jargon through which a large number of female members of the group became infertile by Hysterectomy surgery.
Nim Negah Website is publishing series of interviews with Ms. Ebrahimi. Nejat society translated excerpts of her memoirs of the sufferings of living in the MKO cult.
Consequences of Emotional Suppression
After a few months, they held a meeting in women base where Maryam Rajavi discussed a very bizarre case. "When we separated you from men, we got rid of the main threat but now we are facing another serious threat," she said. "this time the problem is among women!" It was too difficult for me to understand what she meant as I had never come across such a case. "In the absence of men, women may want to satisfy themselves with one another," Maryam continued.
"Women have no right to have friendly relationships. They mustn't be kind to each other. They should criticize each other. They should destroy the relationships that have been created in the absence of men", ordered Maryam Rajavi.
Well, the truth is that you cannot separate men and women otherwise you are fighting a Rule of Nature. When Rajavi omitted such a natural relationship, the negative effects appeared in both men and women […]

Considering such facts, the authorities frequently changed members' responsibilities so that they could not be with certain comrades more than a few months […]
Special sessions were held for women. During the session, women had to read reports on their sexual relationships. Then they would verbally abuse each other in order to grow hatred between themselves.
You may not believe that in the female base, women were not allowed to wear open collar or short sleeve dresses. […]
If you take a look at women in Camp Ashraf, you would find that their faces were sad, bored, exhausted and often angry, violent and tough. Suppressed sexual desires caused hormonal problems that would in turn cause low-temper and depression.
The story of painful consequences of suppressing sexual desires in Camp Ashraf does not include one or two cases; it includes.
[…] There were men who escaped from their base after mid-night and would come around women bases so that they could find a woman alone outside the base.
There were numerous cases of the above mentioned stories. For instance, a young man was found around our guarding post. The women treated him like a murderer. He was terribly beaten by the women. I never found him guilty. In my opinion, he had done nothing wrong. I believed that it was Rajavi's fault. With every cry of pain by the young man I cursed Massoud Rajavi for the crimes he committed against his own members. Those poor youth were deceived to join the horrible castle of Ashraf in the hope of living a better life in Europe!