The suffering, enslaved insiders of MKO and their families always the frontline victims
Why are the human rights abuses taking place inside Mojahedin Khalq (Rajavi cult) not being investigated?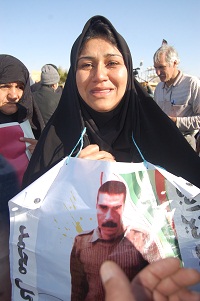 According to the reports, nearly 20 rockets hit Camp Liberty early in the morning[April 30,2013]
According to the reports, nearly 20 rockets hit Camp Liberty, the temporary residence for MKO members near Baghdad, early in the morning. There are no reports of casualties and no one has yet claimed the responsibility for the incident. A considerable number of rockets are said to have hit the water canals at the southern part of the camp. It is the second rocket attack since February 9 in which seven MKO members were killed and 50 others injured. A number of Iraqi policemen were also injured in the attack.
In a statement, as it was expected, MKO accused the Iraqi government and Martin Kobler, the Special Representative of the United Nations Secretary-General for Iraq, of keeping the residents intentionally unprotected. The group's leader, Maryam Rajavi asked for an immediate return of the residents to their previous location, Camp Ashraf.
The attack itself is condemned as a crime against humanity regardless of whoever the attackers might be. But the fact is that MKO is the side that best benefits from the attacks since the leaders are not at all looking for the responsible to accuse; it makes no difference for the Rajavies who is sacrificed from which side; the emphasis is on the applied brutality to claim victims. And for the time being the more victims and bloodshed the faster towards a cultic press to return to Ashraf.
The suffering, enslaved insiders of MKO have always been the frontline victims and their families, pressing effortlessly to rescue them, have repeatedly declared that Iraq is not a safe place for their children and relatives to stay. From the very day the first group of members arrived at Liberty, the leaders began a widespread campaign to stop the process of relocation. However, they failed. Now they are making excuses, urging and plotting to be returned to Ashraf. And any threat in any form provides a golden opportunity the leaders have been looking for.