US Sponsored Iranian Terrorist MKO claims, Iran Builds Secret Nuclear Site
The Iranian terrorist organization Mujahedin e Kkalq, MKO, has accused the Iranian government of building a secret nuclear facility northeast of Tehran. Iran´s Foreign Ministry dismisses the allegations.

The Iranian Ministry of Foreign Affairs has rejected allegations, made by the Mujahedin e Khalq, MKO, terrorist organization, in which the MKO accuses the Iranian government of building a secret nuclear facility. The Iranian Foreign Ministry spokesman, Seyyed Abbas Araqchi, dismissed the claims as being mere lies from a desperate terrorist group.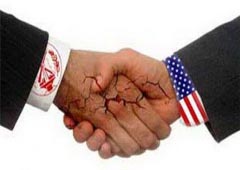 The MKO stated, that it has evidence that supports the accusation, that Tehran is building a nuclear site underneath a mountain near the city of Damavand, approximately 43 kilometers northeast of Tehran.
Foreign Ministry spokesman Araqchi dismissed the statements, saying:
"This report is by no means true and the Islamic Republic of Iran denies it. The terrorist MKO has been discredited to such a degree, that the publication of such stories by them is not worth a response".
The Mujahedin e Khalq, which has been waging a low intensity conflict against Iran since the early 1980s, has been responsible for the death of more than 17.000 Iranians. Its main fighting forces are based in Iraq from where it has operated an insurgency with the approval of the former Iraqi administration of Saddam Hussein. The MKO is known for ties to the United States Central Intelligence Agency, CIA, and Israel´s Mossad. It has been tied to several high profile assassinations in Iran, including the assassination of Iranian nuclear physicists.
After the election of Nouri al-Malaki, relations between the MKO and the MKO soured. Iraqi support to the organization ceased, and the MKO was prohibited from launching attacks against targets in Iran from Iraq.
In 2012 both the United States and Canada removed the MKO from the terror list, drawing heavy Iranian and international criticism for double standards in their approach to combating international terrorism. MKO brigades have since been reported to be involved in the attempted subversion in Syria.
Several hundred leading MKO kadres have opened a facility in Kosovo, where the MKO is reportedly cooperating with the Kosovo Liberation Army, KLA/UCK, US Special Forces, and civilian as well as military U.S. intelligence services. The MKO´s human rights record has been criticized by Iran as well as international rights organizations. The MKO is, among other, accused of forced recruitment and repression against families, who reject contributing members of their family to the insurgency.
By Christof Lehmann , nsnbc.me