A camp of Iranian dissidents in the Iraqi capital was hit by rockets on Thursday in an attack the group said killed three residents and seriously wounded several others.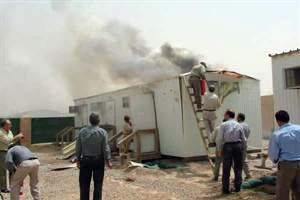 A Shi'ite militia claimed responsibility for the attack on the Mujahadin-e-Khalq (MEK) camp in western Baghdad, which has repeatedly been the target of mortar and rocket attacks in recent months.
The group, which calls for the overthrow of Iran's clerical leaders and fought on Iraq's side during the Iran-Iraq war in the 1980s, is no longer welcome in Iraq under the Shi'ite-led government that came to power after the 2003 U.S.-led invasion.
A Paris-based spokesman for the MEK, Shahin Gobadi, said three people had been killed when "Camp Liberty," located in a former U.S. military compound, was hit with dozens of missiles.
Several of the wounded were in a critical condition, said Gobadi, adding that more than 50 had been reported injured. The group accused the government of Prime Minister Nuri al-Maliki of being behind the attack in an attempt to win support from Iran's government ahead of elections next year.
Iraqi authorities have repeatedly denied involvement in attacks on the group.
In a rare claim of responsibility for attacks on the MEK, Wathiq al-Batat, commander of the al-Mukhtar Army militia, told Reuters his group had fired 20 Katyusha rockets and mortar rounds at the camp.
"We've asked (the government) to expel them from the country many times, but they are still here," he said, accusing the group of communicating with Sunni and Shi'ite politicians he said were linked to al Qaeda.
The U.S. State Department condemned the attack "in the strongest terms." In a statement, it urged the Iraqi government to take additional steps to secure the camp against further violence and "to find the perpetrators and hold them accountable for the attack."
Al-Mukhtar Army is a relatively new Shi'ite militia, which has said it is supported and funded by Iran. Batat is a former leader of the more well-known Kata'ib Hezbollah militia.
Shahriar Kia, another spokesman for MEK who lives in the camp he said houses about 3,000 Iranian dissidents, said two men were killed when a rocket fell near their caravan.
"I saw two caravans set ablaze and black smoke billowing," he said. "We are still taking shelter inside the caravans out of fear of more shelling."
Police sources confirmed the camp had been targeted by mortars and said four wounded Iranians had been transported to a hospital in western Baghdad.
More than 50 people were killed at a separate MEK camp north of Baghdad in September. The attack drew condemnation from the United States and Britain.
(Reporting by Suadad al-Salhy, Ahmed Rasheed and Kareem Raheem; Additional reporting by Peter Cooney in Washington; Writing by Alexander Dziadosz; Editing by David Evans and Bill Trott)