[…]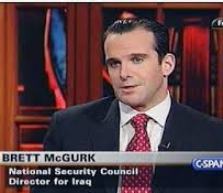 The U.S. Embassy also said McGurk visited Friday with members of Mujahedeen-e-Khalq, the militant wing of the National Council of Resistance of Iran, whose camp outside Baghdad came under rocket attack last month. The statement said the U.S. diplomat stressed the urgency of relocating the residents of Camp Hurriya to another country.
The dissident group, which opposes Iran's clerical regime, joined forces with Saddam Hussein's forces during the 1980-88 Iran-Iraq war, and several thousand of its members were given sanctuary in Iraq. It renounced violence in 2001, and was removed from a U.S. terrorist list last year.
Iraq's current Shiite-led government, which has strong ties with neighboring Shiite powerhouse Iran, considers the MEK's presence in Iraq illegal and is eager to get rid of them. The refugee camp is home to about 3,100 people.