Mojahedin Monitor has learned that there are negotiation going on, on behalf of the families of late MEK and the Iraqi government. The goal of the negotiation is to return the bodies and remaining of dead MEK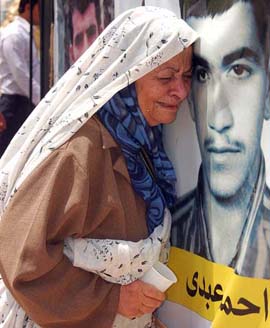 members from Camp New Iraq formerly known as Ashraf military base of MEK.
Sources close to the families of foot MEK say that they are demanding the return of bodies and remaining of the group members into Iran .Ex Mek members believe that some 100 bodies are left Inside the camp in its graveyard and elsewhere.
This is the first time that MEK family members who have lost a loved one in Iraq are demanding the return of the body. One family member who lives in Iraq has told us, we were not there when he was injured and died. Now we want our son`s body back and that is our legal right. We are going to pay for any expenses.
In recent years families of many MEK members have traveled to Iraq and demanded visit with their children who are still in kept by MEK. Although according to the rules of MEK any family visit is taboo and is prohibited. MEK leaders not only didn't allow their members to visit their families but also had some of their high rankings to throw stones to these families and call them spy.
Another family member of a late MEK from North America has told Mojahedin Monitor, We don't know how our lovely brother was killed. We never received any official documents or truth about it. An MEK Official called us and just told us that he was killed during the bombings of Iraq. Now we don't want his remaining body to be in Iraq where before was camp Ashraf. We want his body to be returned to Iran and to be close to our family where we can visit him. I don't think that he rests in peace in Iraq.
According to ex members of the group some members of MEK are killed under torture or disappeared because they were not agreed with the policies of the leaders of the cult like group. Whereabouts of their graves and more information about their cause of death demands cooperation of Iraqi government with the families.