New groups of Liberty residents transferred to Albania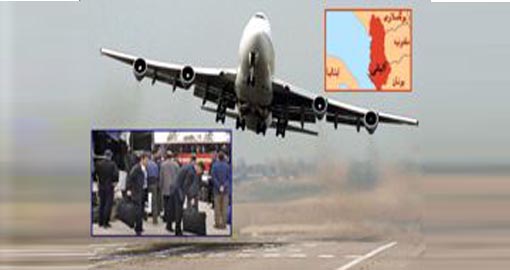 55 more MKO members who were resided in Camp Liberty, Iraq as a temporary transit location relocated in Tirana early September, Neday-e Haghighat Website reported.
Among the transferees is Somayeh Mohammadi; daughter of Mr. Mostafa Mohammadi who has been trying to meet Somayeh for many years now. He has travelled to Iraq and in front of MKO Camps along with his family several times. He also went to the doors of MKO Camp in Auer Sur d'Oise France and was violently attacked by the Cult's thugs.
Another known transferee is Amir Aslan Hasanzadeh. Amir Aslan's Mother ; Ms. Abdullahi is an active member of NejatNGO Families who has several times travelled to Iraq and in front of MKO Camps to meet her son.
We wish all MKO Cult hostages to be released and reunited with their families.
The first group includes:
The mother of Mahboube Ashraf Jahani
Hedayat Ranjbar
Akbar Mosaferi
Hosein Safiri
Majid Sayyar
Fereshteh Behzad
Ali Tulami Moghadam /Tavallaei
Mina Jahani
Fariborz Jahanrooy
Rahim Ali Sayadi
Behrouz Mojaver Panah
The father of Ebrahim Zanjani
Farideh Mahdavi
Marziyeh .. alias Amir Tousi
Somayeh Mohammadi
Abolfazl Ghanadi
Akbar Rabiei Sharafi
Morteza Banejad
Kobra Hadilou
Samar Dalal Halvaei
Tayebeh Rahmani Lahouti(alias Aazam; wanted by Interpol under the charge of baby snatching, money laundering and fraud)
Mohtaram Ghanavaei
Mohamamd Tourang
Ahmad Golafshar
Ali Sharifi
Omid Ghadermazi
Ahmad Shakeri
Mehdi Behbani
Barani Dehghani
Zeydollah Abdipour
Sharif Shahsavandi alias Sharif Ghaderi
Alireza Talesh Majidi
Morteza Astani
Amir Nik thalean
Maryam Hasanzadeh Kiyani alias Maryam Kiyani
The second group includes:
Esmaeil Taghipour
Mohammadali Me'yari
Ahmad Ali Ahmadi
Mohsen Khosravani
Mahmoud Shams
Khalil Faryadras
Bahman Azimi/Aazami
Khosro Afshoon
Sedigheh Madadi
Nastaran Purfarzam
Akbar Vandaei
Asghar Mehdizadeh
Seifollah Kalbizadeh
Abdollah Moezi Fard
Marina Seraji
Monireh Nazari pur
Maryam Haji pur/Haj
Babak Khalili
Mehri Nabi
Leila Amini