The honorable French Minister of Interior Mr. Bernard Cazeneuve ,
greetings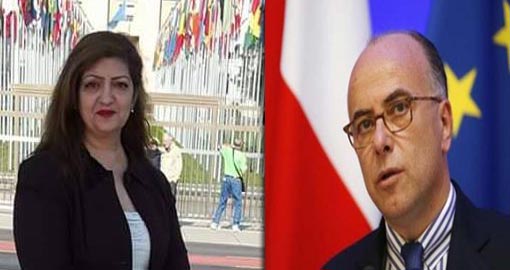 The unfortunate incidents which happened in Paris , and as a result of that many innocent people ,women and men , lost their lives , have brought sorrow and sadness for all freedom loving people and this sorrow and sadness has opened our eyes and ears about these horrible incidents and we should ask the humane conscience this question , for what reason those innocent people lost their lives and were murdered ?
Mr. Minister I am Zahra Moeini , a German citizen , who had been a captive in Iraq in Ashraf Garrison for many years and i had experienced the life in people's mojahedin organization ruled by Massoud and Maryam Rajavi . In 1992 when Maryam Rajavi called herself the president of national council of resistance of Iran !! i became a member of her security team and i left Iraq to Paris with her and after a while i went to Germany. the Rajavi's terrorist cult told me that ;Germany is a very good country in Europe for asylum and we can fool the German government for our activities easily ; . After a while i found out about their ominous intentions and their crimes , so i decided to separate from them and right now i am a human rights activist in Germany. I had witnessed their crime such as money laundering and theft of the operatives of this organization .
Mr. Minister In the beginning of 1987 , the French government which was ruled by Mr. Jacques Chirac had incarcerated some of the pmoi officials because of violence and terrorist activities and extortion and send them to exile in Gabon . When it happened , Massoud and Maryam Rajavi both were in Iraq and Massoud Rajavi one year before it happened left France to Iraq . They both were angry and were saying that they wont forget this work of the French Government and they vowed that they will retaliate against the French government when they overthrow the Iranian government and they mentioned that it will be a good lesson to the world not to interfere in Iranian resistance affaires.
In 2003 when Maryam Rajavi and some of pmoi operatives got arrested in France , 11 million dollars was found in their headquarter in Auvers sur Oise . The PMOI leadership forced some of their followers and members in France and in Europe in front of the French Embassy and in USA to set themselves on fire to show their anger about the arrest of Maryam Rajavi . the leadership of pmoi wanted to create panic and fear among the French people to force The French government to release Maryam Rajavi as soon as possible . unfortunately two of those who set themselves on fire died of severe burning. those two were Mrs. Sedigheh Mojaveri and Miss Neda Hassani.
Mr. Minister As you see despite of huge amount of money which this terrorist cult spends for its shows and its existance in France , the leader of this terrorist cult , Maryam Rajavi , does not do anything to rescue the residents of Camp liberty from the hell hole of Iraq . This cult has a very dangerous essence and it is run by cultish rules . The main leader of this dangerous cult(the guru) , Massoud Rajavi has threatened all his critics and separated members to death, he wants to create a wave of fear and horror among his critics and separated members but his threat against his critics and separated members will begets panic and fear among the people of France and other European countries as well.
Mr. Minister do you think the leaders of this terrorist cult are suitable to run the government in Iran ? you should know that Maryam Rajavi has not been elected as president of the national council of resistance by the Iranian people who live in foreign countries or the captive members of this notorious cult in Iraq , for that reason she is not the representative of Iranian people and she can not represent Iranian people .
Mr. Minister I wrote a letter to the mayor of Auvers sur Oise while ago and i thanked her because she hosted two families of those captive members in camp liberty in Iraq . I urge you to stop their activities before witnessing another crime which they will perpetrate. Mr. Minister I have requested Maryam Rajavi many times to have a debate with me in a TV even in their own TV program but i have not received any answer except the death threat which i and others received from them.
Mr . Minister i share with you some of the crimes of Massoud and Maryam Rajavi : In 1989 Massoud and Maryam Rajavi ordered all pmoi members to separate from their husband or wife (compulsory divorce). By the direct order of Massoud and Maryam Rajavi all children ranging from 6 months old to the age before maturity were separated from their parents and they were sent away to an unknown destiny and future , some of those children got lost or were sent back to Iran or some of them got raped which was mentioned by some of Rajavi cult followers . The separated and divorced women in Rajavi cult by the direct order of Maryam Rajavi had to sleep with Massoud Rajavi for their own salvation !!! and they were ordered to go under surgical operation to take off their womb before sleeping with him.
Mr. Minister People's mojahedin organization , PMOI, as the speaker of French external affaires explained , is a violent cult and its existance in France is illegal . i would like to reiterate that all the iranian members who are in the cult's headquarter in Auvers sur Oise are the top officials of this cult and they are all commanders of the war and terrorist missions in Iraq and Iran. There is no difference between their thoughts and ideology with ISIS (Daesh) but because they are defeated and many of their members have separated from them and they have lost their popularity among Iranian People , the leaders of this cult in western countries specially in France are trying their best to show themselves as freedom lovers and pro-democracy organization and they pretend that they are against terrorism to wash their bloody hands and hide their real essence behind the mask of democracy and freedom . Supporting ISIS (Daesh) by Massoud and Maryam Rajavi goes to 9/11/ 2001 and in that day when the terrorists attacked the twin towers in New York city by the airplanes which they had hijacked and killed 3000 innocent American men and women , Massoud and Maryam Rajavi ordered to show the horrible scenes of those terrorist attacks many times in the gathering in Bagherzadeh garrison in Iraq and while they were clapping their hands , Massoud Rajavi said, I adore Islam which in this fanatic form has created such a damage to USA and imperalism, now wait and see what is going to happen to imperalism when our revolutionary Islam comes on power, .
There is no doubt that the reason behind their happiness and satisfaction about the terrorist attacks in 9/11 was their violent essence and their crave for bloodshed ,violence and armed struggle . There is no doubt that on the basics Rajavi , Daesh and Al ghaedeh have the same violent and fanatic thoughts and during the years i was in that cult ,all Rajavi's interpretations of Ghoran were in support of violent and fanatic thoughts . Last year when Daesh took over the city of Mosel in Iraq and began its terrorist actions on Iraq soil , this cult and its leadership began supporting Daesh in its official websites and mentioned them as the revolutionary people of Iraq , the revolutionary tribes of Iraq !!. http://www.mojahedin.org/news/139413 (Le site de l'OMPI: Les révolutionnaires et les nomades révolutionnaires de l'Irak ont saisi toute la ville de Mossoul) in this link which is the pmoi official website you can see their support of Daesh with French translation .
Mr. Minister With all those facts mentioned above , for security and safety of your country , you should put an end to their cultish activities in Europe and in France , because they have supported Daesh in their official websites many times and their thoughts and cultish and terrorist behaviours during past 40 years substantiate that they have the same thought and behaviour as Daesh has . We should not forget that Rajavi cult carried out the suicidal operation in Iran in 1980,s and in 2003 suicidal operation on French soil by setting themselves on fire on streets of paris and they mentioned it proudly in their official websites . Those years which pmoi was carrying out those bloody suicidal operations and attacks against its targets , Daesh did not exist and i believe that Daesh had learned those suicidal operations from Rajavi cult.
All the best,
Zahra Moeini Germany, Iran Zanan Association,