Former MEK member Ehsan Bidi staged a sit-in outside the UNHCR office in Tirana, Albania where he has refugee status.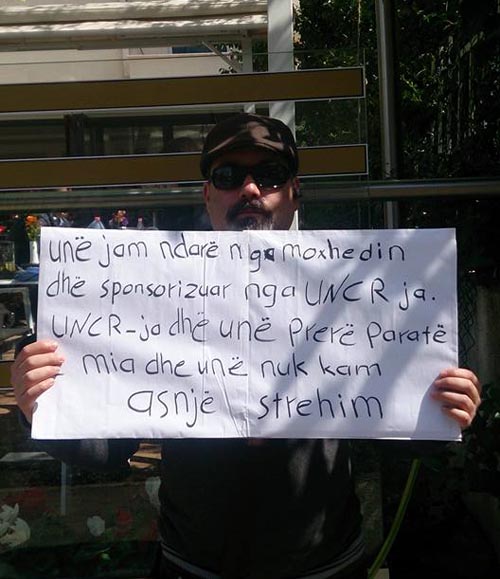 The MEK openly threaten to kill him because he left them.
Bidi and other formers were told by the UN office that their funds and accommodation would be stopped from end of March. They have now all been evicted and made homeless.
While Bidi protested, he was approached by a television journalist but when the police took Bidi away they also forcefully confiscated the contact card he had been given.
According to Bidi, the responsible person at the UN, Nicola, has been replaced in the past few days by someone from Pakistan who claims to know nothing except that the UN is not allowed to pay for the refugees from today. The UN attributes this situation to an agreement between the Albanian government, the US, MEK and the UNHCR. According to this agreement, Albania should only provide land and the individual refugees' expenses are to be met by the MEK. The problem is that not only will the MEK not provide for these formers' expenses, they actually want to kill Bidi.
Bidi says that already a few members have been forced to humiliate themselves and beg the MEK to be allowed again to become terrorists for money. They all have refugee status. When Bidi questioned Nicola and other authorities they said 'there are two ways; either go back to the MEK, or go to the Iranian embassy and ask to be taken back to Iran (this is while they have political asylum in Albania). When Bidi insisted on having this in writing, UN officials called on plain clothes 'police', who beat him up and removed him from the area.
Bidi has not given up his protest and regularly posts updates on Facebook. He can't go back to the MEK and he can't return to Iran. Obviously something is wrong with this situation and the only logical explanation is the corruption in Albania. Bidi has stated that if he is found dead, it will be "because of a coalition of the MEK and Albania and its mafia – whether this is in the UN or elsewhere".
Iran Interlink weekly digest