Sources to Ashraf News: Defection of five Mojahedin Khalq members in Camp Liberty
Iraqi securit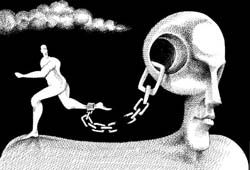 y sources revealed on Monday that five members of the MKO terrorist organization, who are in Camp Liberty in Baghdad, declared their defection and turned themselves to security forces stationed near the perimeter of the camp.
Police Colonel, Mohsen Jaber Al-Kanani, told the reporter of Ashraf News, "Five members of the Organization of Iran (PMOI) defected on Sunday from the organization and turned themselves to the security forces after they managed to leave Camp Liberty."
Al-Kanani said that the Iraqi police handed over those five to the United Nations mission in Baghdad, noting that "the dissidents were Ali Hussein Khodabandeh, Mohsen Tayeb Zadeh, Massoud Bakhshi Zadeh, Sayed Jalal Rahimpour, Manouchehr Shirazi," .. "three of the dissidents are from Kermanshah province in western Iran."
Hundreds of MKO terrorist organization members who are in Camp Liberty seek to defect, leave the organization and join their families who have been protesting more than a month in front of the Camp, demanding to meet with their sons detained by the organization leaders Maryam and Massoud Rajavi.