A meeting in the European Parliament on 30 May discussed the problems associated with the Mojahedin Khalq Organisation (MEK) both inside the Parliament and across Europe and the wider world.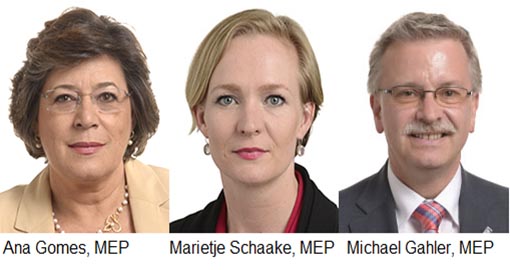 The meeting, which was attended by MEPs, researchers and analysts along with representatives of agencies outside the parliament such as security personnel, was organised by Ana Gomes, SND (Portugal) and seconded by Marietje Schaake, ALDE (Netherlands) and Michael Gahler, Christian Democrats (Germany).
All three have a clear record as outspoken critics of Iran's human rights record and are concerned about the impact of MEK activity on this issue.
Two expert speakers were invited to address the meeting: Nicola Pedde, Director Institute for Global Studies, Italy and Massoud Khodabandeh, Director Middle East Strategy Consultants, UK.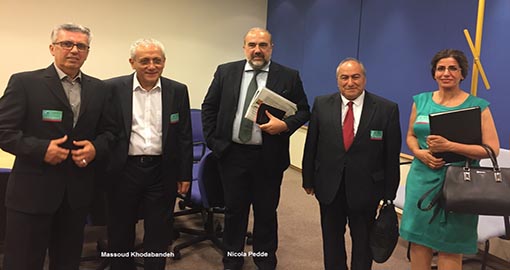 Since all the participants have seen first-hand that the MEK spends enormous amounts of money for publicity and lobbying, the first issue to be discussed was 'who funds the MEK and what is their agenda?' It soon became apparent that the MEPs are fully aware that the MEK has never existed as an independent group and has benefitted over three decades from funding streams from specific circles which are trying to engineer regime change in the Middle East. The question then became whether these sponsors understand that the cost benefit of supporting the MEK is not giving positive returns but in fact has a negative result for them in their regime change agendas.
Further discussion by representatives revealed that the MEK has been shunned by almost every Parliament across Europe.
In spite of this, MEK members can still gain access to the European Parliament because it is an open institution. The problem this presents is the bullying tactics used by the MEK to intimidate MEPs and their staff. Several delegates at the meeting gave first-hand evidence of this. One MEP said that within ten minutes of taking one particular stance he was bombarded by mass emails some of which contained swearing and threats. Delegates agreed that this is incompatible with the fundamental principles of any Parliament in which representatives must be able to speak and act free from any pressure or intimidation.
Nicola Pedde described to delegates his work in the Italian Parliament where MPs are persuaded to sign petitions by bogus human rights campaigners. Pedde said that when he asked, many of the signatories were unaware that the MEK was behind the petition and didn't realise that various sentences or paragraphs were added afterwards to give support for Maryam Rajavi and her agenda. Pedde said some MPs were even strongly against the MEK and were very angry about being deceived in this way. They had thought they were condemning human rights abuses in Iran, but their names were then misused to depict them as supporters of terrorists in Albania.
The discussion moved on to the problem of accepting the MEK as advocates of human rights for Iran. Ana Gomes said that when Iranian Nobel Human Rights Prize winner Shirin Ebadi visited the European Parliament, she was unequivocal in saying that the MEK do not have the right to be described as human rights activists. Quite the opposite, they are abusers themselves, she said. Massoud Khodabandeh reminded delegates that in a recent interview with AP, Reza Pahlavi – who wants to restore the monarchy to Iran – dismissed the MEK as a cult. In addition, every Iranian opposition group from the Greens to the Nationalists has rejected the MEK as human rights advocates and as a political entity.
More concerning for delegates is that the government of Iran is quick to use the MEK's advocacy for human rights as a means to dismiss the issue, pointing out that the terrorist group murdered thousands of Iranian citizens and still commits human rights abuse against its own members. Massoud Khodabandeh gave an example from the UK House of Lords in which Haleh Afshar – a prominent Iranian feminist and academic who now sits in the House as Baroness Afshar – hosted a parliamentary debate about human rights in Iran. The challenging discussion, with valuable contributions from several informed members, was completely undermined by one of the MEK's supporters who asserted that only Maryam Rajavi and her group could bring freedom and human rights to Iran. The government of Iran cannot be expected to even respond to such a debate said Khodabandeh.
Nicola Pedde made an interesting comment when he said that the MEK cannot be considered as a viable force because, as a result of its cultish behaviour, the MEK do not have a second generation. They have effectively killed themselves, he told delegates, because marriage and family are banned for all members.
The third issue to be discussed was the MEK presence in Albania. Delegates heard how the MEK had been forced to leave Iraq and how the Americans arranged for the UN to be able to transfer them to Albania. The government of Iraq was relieved to be rid of three thousand MEK who had been part of Saddam Hussein's repressive forces, but the problem has now simply been moved to Albania. The Americans promised help to de-radicalise the MEK members. But, as Massoud Khodabandeh pointed out, this did not happen and the group was allowed to re-group as a terrorist cult and treat its members as modern slaves.
Delegates discussed Albania's candidature to join the European Union in light of this situation and agreed that this is not just incompatible but that having trained terrorists on the doorstep of Europe is already a security threat to Europe. Delegates stressed that European security services need to take this threat seriously from now.
Reports also described the human rights abuses inflicted on MEK members by their own leaders. They are living in conditions of modern slavery because the UNHCR is acting illegally by paying refugee allowances to the organisation instead of to the individual members. This means members are forced into dependency on the group and cannot leave. Members are also prevented from contacting their families or even other former members so they do not have any recourse to external help or support.
As the two speakers gave their expert analysis throughout the meeting, they also offered suggestions for solutions. Khodabandeh urged delegates to put pressure on the Albanian authorities and the UNHCR to resolve the hostage condition of MEK members in Albania.
Pedde said MEPs should be briefed about the danger of supporting human rights through using groups like the MEK.
At the end the meeting was also opened to the audience for discussion. Former MEK members, Ali Akbar Rastgou, Batoul Soltani, Reza Sadeghi and Ghorban Ali Hossein Nejad were able to join the discussion at this time.
In conclusion delegates discussed various solutions which are open to them. It was important, they said, to find ways to tackle these problems because parliament cannot be held hostage to bullies. A package of activities was agreed in order to curtail the MEK's deceptive and intimidating activities in Parliament. Other solutions to the wider problems were also agreed and will be put in place throughout the rest of the year.