Letter to the Honorable and Prominent Mr. Ad Melkert
Special Representative of the Secretary-General for Iraq
United Nations Assistance Mission for Iraq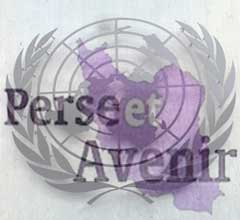 With all respect to you and your honorable colleagues and members of UNAMI, we, the former members and critics of pmoi (aka Rajavi's Cult, MKO, NCR, NLA) would like to draw your attention to the following humanitarian issues which are pretty important :
As you are well informed that since eight months ago many families who have loved ones in Ashraf Camp, have been picketing outside of this notorious garrison hoping to see their relatives . Their just request has been denied and ignored by the pmoi's proxy and operatives and in some occasions they have been attacked and insulted by some of the high ranking members of this cult.
Pmoi's operatives based in Ashraf garrison who are receiving their orders to suppress those families directly from the cult's headquarter in France have forced and coerced some of their members to participate the cult's TV program so called ,Simayeh Azadi, to insult those families despite of their will . Those members have been intimidated that if they meet with those families , they will be arrested and tortured by Iraqi police and will be extradited to Iran to be executed, or will be killed and tortured by those families!!
The pmoi operatives have called those families as agents of Iran's intelligence service to intimidate their members not to visit them ,who are a group of elderly parents wishing to see their son, daughter or etc after many years.
The pmoi operatives pretend that the Iraqi government does not allow them to visit their relatives , but that is a big lie which pmoi operatives utilize to cover up the real reasons.The pmoi operatives have utilized brainwashing and indoctrination methods for many years to separate their members from the real things which exist outside that garrison ,like sentiment and love which are considered as deadly sin in pmoi.
We , the former members of this organization urge you to step forward and help those desperate families to visit their loved ones .
Respectfully
Ancient Iran Association
Transcript
# Mr. Jerzy Skuratowicz, DSRSG for political, electoral and constitutional support
# Ms. Christine McNab, Deputy Special Representative (Development and Humanitarian Support) for Iraq